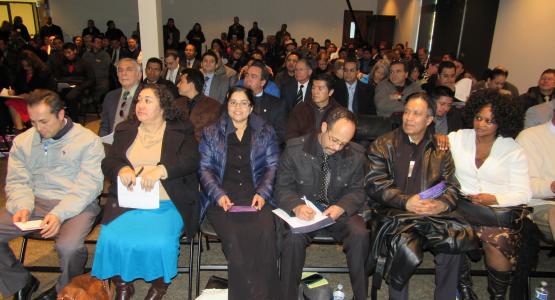 New Jersey Ministry Leaders Retool for 2015
February 23, 2015 ∙ by Anonymous ∙ in New Jersey Conference
Conference leaders kicked off 2015 with training sessions and classes for local church leaders and department coordinators. "The purpose of the trainings is to motivate and give the tools to the leaders to do the mission of Jesus in their local churches," says Jorge Aguero, Personal Ministries director.
Story by New Jersey Conference Staff
Under the theme "Proclaiming Hope in Jesus," more than 200 Personal Ministries leaders and their pastors filled the conference auditorium in Lawrenceville to learn new evangelism strategies and how to bring unbelievers to Jesus. Leaders were challenged to find five friends to pray for and say they left the meeting motivated to serve. New youth coordinators also met to plan and organize for the year. Event planners encouraged coordinators to work with the Adventurer and Pathfinder clubs, Master Guides, Ambassadors, Adventist Youth members, teens and young adults. They also recorded a video announcing the 2015 youth theme, "Faith in Action," and discussed how they will help the youth implement the theme.
The Family Ministries Department held training for their local coordinators. Every coordinator received Building Family Memories, a plan book that includes sermons and seminars for Family Christian Home Week, February 7-14. They also received helpful resources.