Camp Meeting Recap--Mountain View Conference
June 24, 2008 ∙ by kkajiura ∙ in Mountain View Conference
By Taashi Rowe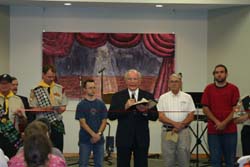 Mountain View Dedicates Youth Center
Mountain View Conference's camp meeting started out with a bang, as a thunderstorm rolled through the camp ground at the start of its opening event--the dedication of its new youth conference center. The storm forced attendees indoors for the ribbon cutting for the newest building on the sprawling 302-acre campus of the Valley Vista Adventist Center in Huttonsville, W.Va.
During the ensuing dedication ceremony Larry Boggess, conference president; Victor Zill, treasurer; Randall Murphy, retired conference president and current camp manager; and others gave thanks to God for the new facility.
Boggess said building this space specifically for young people was important because, "the future of Mountain View lies with young people, and we wanted to let them know that they matter."
The new building was also desperately needed because youth attending Valley Vista in the summer didn't have a suitable meeting place. They were often forced to gather in the cafeteria where "we sometimes had to listen to dishes being cleaned," said Geoff Starr, conference youth leader.
The cafeteria, though, was a welcome respite from their only other option. "We were meeting in an rickety old barn," Starr said. Not only was the barn lacking many modern conveniences, such as a bathroom or air conditioning, but it was also too small for the 150 youth that attended camp meeting each year.
"We needed a place for kids to be used by kids," Starr said.
The new center features a 200-seat capacity, air conditioning, and a fully functioning sound system.
Young people said the new building is a great improvement over the old barn.
"Amazing," is how 16-year-old Rebekah Ruediger described the new space. "Last year we were all so cramped in the barn; this is really great."
Pascal Selligy, a staff member from the Miracle Meadows school in Salem, W.Va., brought several of his students to the dedication. "I couldn't picture anything but the barn. I'm glad they have done this, because I believe we should give our young people the best building on campus," he said.
Partial funding for the building came from a collection taken up by retired presidents at the last camp meeting. The groundbreaking for the new building took place at the end of last summer and was completed in time for a minister's meeting that took place in February.
At the building dedication, long-time camp ranger, Tim Engelkemeir, was recognized for his role in the facility's construction. Engelkemeir has experience as a contractor and oversaw and contributed to the completion of the new building. A number of pastors and lay members also helped with construction.
Like many who still spend their summers at Valley Vista, Engelkemeir recognizes the spiritual benefits of coming to the camp. "Every summer kids are baptized in the pool, and people are brought to Chrisere," he said.
ShareHim Graduations
The theme for Mountain View's camp meeting was "Anointed, Disciplined Disciples Telling our World Now," so it was not surprising that there was a graduation ceremony for the first group in the conference to participate the ShareHIM boot camp. ShareHIM is a ministry that equips lay members to lead evangelism meetings.
Robert Folkenberg Jr., associate director for ShareHIM, presented the enthusiastic graduates with their certificates. "There are about 70 graduates who are planning more than 50 evangelism meetings in this conference," he said.
Eighty-seven year-old Robert Toms, a ShareHIM boot camp graduate, said even though he was already an ordained pastor, he still learned a lot from the boot camp. "I realize that you really don't need a college education to lead a crusade and bring people to Christ," he said.
Two Pastors Ordained
Daniel Morikone, pastor of the Parkersburg and Toll Gate churches as well as the Health Ministries director for the conference; and Stewart Pepper, pastor in the Lewisburg and Rainelle district, were officially welcomed into the ministry through ordination.