Laurel Lake Church Offers Camp for Visually Impaired, Blind
September 19, 2012 ∙ by cwhittingham ∙ in Pennsylvania Conference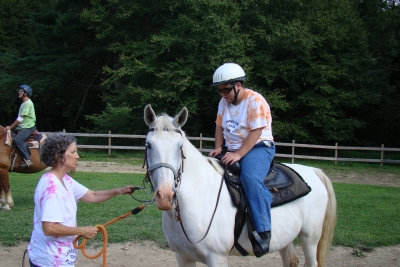 Story by Tamyra Horst​
Jacob had never attended summer camp before. Being visually impaired made it difficult for him to participate in typical summer camp activities. But that changed this summer as Jacob attended a camp specifically designed for the blind and visually impaired at Pennsylvania Conference's Laurel Lake Camp and Retreat Center in Rossiter, Pa.
Randy Mallory, first elder of the Laurel Lake church in Rossiter, and his wife, Cindy, had previously volunteered at camps for the blind and visually impaired in Michigan. When he shared his idea of offering a camp at Laurel Lake with his church members, they all began praying, dreaming, planning and working. "Many people were praying that the Spirit of the Lord would go before all of us in the planning and preparation for this camp," Mallory shares. "Ultimately, they were praying that the camp would be a reality and God would be glorified in it."
Laurel Lake members took his idea to the nearby community of Punxsutawney. Many local businesses and local churches donated money and food for the camp. Church members did research and found ways of making summer camp activities for blind and visually impaired campers. Word spread, and more than 20 people volunteered one week of their summer to help.
Campers enjoyed archery, horseback riding, go-karting and swimming. They made pottery and tie-dyed shirts. Their team won every game of beeper ball against the volunteers, who were blind-folded during this game modeled after baseball—with a ball that beeped so you could hear it to hit it or find it in the outfield and a base that buzzed so you knew which way to run. They also participated in worships each morning and evening.
"This camp for me is just another affirmation that we serve a God who answers prayer. He gave us the right people, at the right place, at the right time and all the means necessary for this special purpose," Mallory says. "He has given to us a foundation (of course He is the foundation) to continue this camp ministry for the blind and visually impaired on an annual basis. What a blessing! Praise God!"
For more information about next year's camp, which will be held August 19-23 contact Laurel Lake Camp at (814) 938-9300.
Photo: Deb Bandel leads blind camper Jacob.