July/August 2019 Visitor Feature: Season's Journey
July 09, 2019 ∙ by vmbernard ∙ in Chesapeake Conference, This Month's Issue
Story by Tompaul Wheeler
For Season Cromwell, sharing her journey with authenticity has been a part of her from the beginning.
"I was just a couple weeks sober when I became an Adventist," Cromwell remembers. "I spoke differently, I couldn't sit still in a room. I went to the most conservative church in the conference in my area, and people told me, 'You might want to pick a different one because I'm not sure they can handle your story.' [My experience] was the complete opposite—and I think it was because I was sharing my story. There were folks who struggled with me because I'd sit down and start clapping [in church]. But praise Jesus, there was a large group who surrounded me—pastor, youth pastor, ladies—and loved me back to life."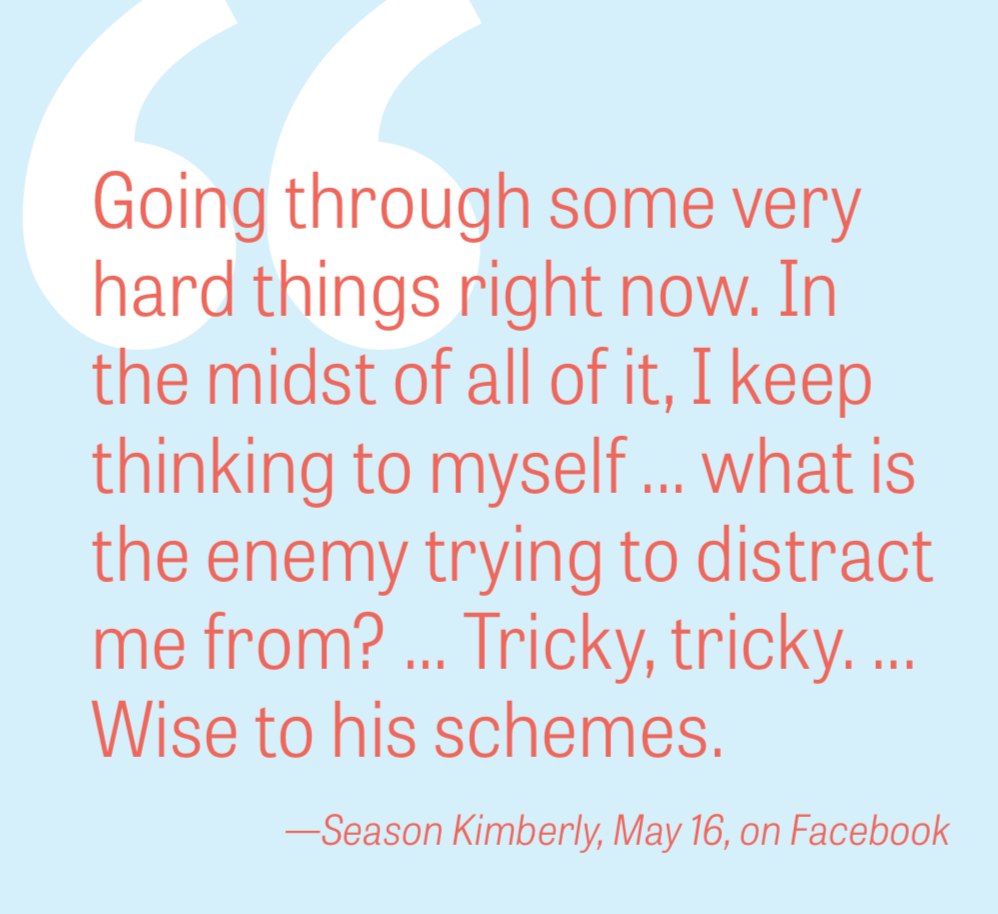 Today Cromwell attends Chesapeake Conference's New Hope church in Fulton, Md., and is co-host of the television program "Let's Pray" on the Hope Channel. Although following God has transformed every aspect of her life for the better, she still faces struggles, sorrow and disappointment—and is still determined to be genuine and honest about her life. One part of her journey she's chosen to share—including on her Facebook and Instagram pages—are her struggles with infertility, miscarriage and her son's injury during childbirth.
When Cromwell's son Gideon was born in 2016, he suffered a brachial plexus injury on his left side. From his shoulder to his finger tip, nothing moved. At seven days old, Season and her husband, Chris, had Gideon anointed. That night his thumb twitched. Two surgeries—a nerve graft, and a shoulder repair with a tendon repair—have helped Gideon recover strength and movement.
"He's doing wonderfully," Season says. "God continues to amaze us."
Season has a heavy heart, however, for those who continue to face such challenges in darkness. "A friend of mine runs a brachial plexis support group on the internet. There are people from all over the planet, and they say, 'No one ever told me why my child's arm didn't work.' And by then it's too late to take some of the steps to help their child heal. That's devastating to me. My friend [posts] videos and education on what to do and how to help their children."
After a difficult experience with infertility, this spring the Cromwells rejoiced to learn that they were expecting another baby, and shared the good news on Season's Facebook page, while asking for continued prayers. "I'm committed to our community to share our entire journey this second time around," Season said at the time of the interview for this article. "For three hours after I posted, I wanted to take it down. There are some things I'm sacrificing so others can see. And if this pregnancy, heaven forbid, something should happen, I will post it as well. That's the point—it's a messy journey. It doesn't have a neat bow on the end for everybody."
Season explains, "Infertility and miscarriage is one of the biggest clubs nobody wants to be a part of. When I was first going through it, there was no way I could share it. It was hard to post that we had a positive pregnancy test because there's so much stigma about sharing your pregnancy early. In other countries, people share about pregnancy early so [friends] can support and celebrate. Then if something happens, we cry with you and love and support each other."
Soon after the interview, that something happened.
Season looks to Paul's words in Galatians 6:2 for guidance: "Carry each other's burdens, and in this way you will fulfill the law of Christ" (NIV). The Bible also says God desires "truth in the inward parts" (Ps. 51:6, NKJV). Season admits, "That's the ugly stuff too."
She continues, "Sometimes when we're not honest with the things we're struggling with, people feel like you're trying to deceive them. Like, 'Why didn't you tell us?' As opposed to someone who just walks in and says, 'Hey guys, I need help.' And I think there's a part [of] the person to be honest for people to have a loving and kind response about it. But I feel like if we are open about our struggles, it builds a sense of community because it's a fact that we're not the only ones. That's not even a question. If you're breathing, you're dealing with something."
Though the sharing has sometimes been difficult, Season feels this is a calling. "I'm sure some people think 'she's telling everyone all her business,' but that's okay because that means what I'm sharing isn't for them. They're not the tribe I'm trying to reach. I don't need everybody to like it or agree with it. I'm doing what the Lord told me to do, and I'm putting it out there because I'm being obedient. ... The enemy wants us to feel like we're isolated and we're the only ones struggling. He wants us to feel ashamed. ... There is just so much to be said about the community that we provide for each other."
Season has felt a little pushback to her sharing.
"I had someone tell me you really shouldn't try to help others until you've already been through it and can look back at it. And I thought, No, absolutely not. God's given me a bit of a platform, and I feel it'd be a disservice to not share."
She also notes that there is a difference between dumping and sharing online, but says that counseling has helped her to "move through with stuff so that when I do share, it's to build community, not to lament so others will feel sorry for me." She says to ask yourself before posting, "'Is it solution-oriented? Have you had a conversation with someone and you know they've taken it to Jesus first?' All the weight of their emotions is just dumped in your lap if they haven't."
Read articles from the July/August 2019 Visitor:
More articles coming soon!
Cover image of Jessica and Quincy Sims by Jared Wickerham/AP Images for the Columbia Union Visitor