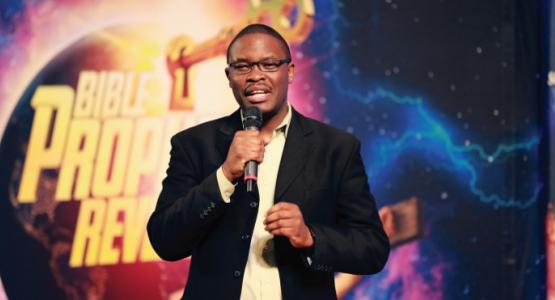 Prophecy Series 'Forecasts Hope' During Pandemic
August 11, 2020 ∙ by Web Administrator ∙ in Coronavirus Pandemic, Chesapeake Conference
Story by Andre Hastick
"It seems as if one morning, we all woke up, and everything was different," says David Klinedinst, Evangelism and Church Growth director for the Chesapeake Conference. "While we were unable to hold in-person seminar meetings here in the Chesapeake Conference region under coronavirus-related mandated restrictions, we still felt a commitment to advancing our evangelistic mission."
After prayer and evaluation, the conference decided to offer a message of hope titled "Forecasting Hope," an online Bible prophecy seminar streamed live from April 18–May 2. In addition to the Chesapeake region, the 1,420 registrants included churches and individuals from New Jersey, Iowa, Missouri and Canada.
"Originally, this series was only going to be available to churches conferencewide," says Klinedinst. "However, as we shared, it began to generate more and more interest. Our purpose was to be able to reach our communities during this pandemic with the hope found only in Jesus."
The meetings featured several interactive elements, including Q & A segments, prayer requests, live chat and giveaways. At the conclusion of the series, each Bible study interest was paired with a local Seventh-day Adventist church for follow-up.
"The 'Forecasting Hope' series made a significant impact on the Middletown Valley community," says Alex Santrac, lead pastor for the Middletown Valley and Catoctin View (Md.) churches. "As a pastor of the district, I have received several requests for Bible study, and I have already started the journey of deepening the relationship with Christ together with three to four people. Some of them were in contact with the [Adventist] Church before, but they were never seriously engaged in growing their faith in the Lord. I fully support this kind of initiative when openminded and seeking-people can find Christ through a digital media experience."
After viewing the final message, 56 viewers submitted requests for further Bible studies. While the live recordings are complete, the video broadcasts can still be viewed and shared online at forecastinghope.com.
"I have thoroughly enjoyed the seminars," says viewer Norma Darrah. "I have been spiritually moved, and now I have so much more understanding."
Read these articles from the July/August 2020 Visitor:
Editorial: A Gold Mine for Ministry
Safe at Church
It Starts Small: Things to Look Out for in a Predator
ACS Ramps Up to Meet Record Demand
Register for the Virtual Visitor 5K