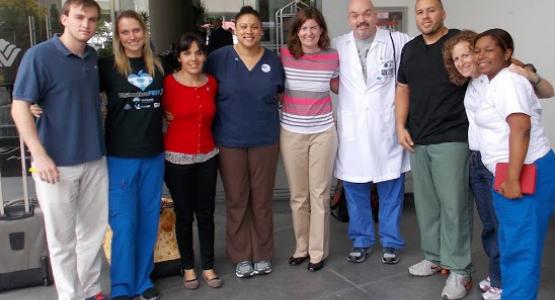 Adventist Rehabilitation Hospital of Maryland Employees Bring Expertise to Ecuador
July 30, 2014 ∙ by Anonymous ∙ in Adventist HealthCare
Five Adventist Rehabilitation Hospital of Maryland employees recently took a weeklong trip to Guayaquil, Ecuador, to take their rehab care and expertise to the staff and children of a pediatric burn unit.
Story by Laura Cook
Terrence Sheehan, MD, chief medical officer at Adventist Rehab, an Adventist HealthCare entity, was joined by Andra Henning, occupational therapist from the Takoma Park facility; Laura Pickoff, LCSW-C, at the Rockville facility; Jessica Burns, physical therapist assistant at the Takoma Park facility; and Kevin Estrada, RN, at the Rockville facility.
While there, the team provided daily lectures and clinics to the hospital's staff on specialty topics, such as casting and splinting, chemical burns and post-traumatic stress disorder. The team educated staff on healing and movement, as many of the young patients had remained in bed. The team also focused on engaging and empowering the parents and families in the treatment of their children.
"We have such an abundance here of both professionals and supplies," explains Sheehan. "This trip is a great way to share that with those who don't have that abundance. Overall, we all felt this trip was really successful."
The young patients shared their appreciation too. One boy even drew pictures for each team member depicting activities they had done together.
"Even if we have an impact for just a little amount of time, it's worth it," says Pickoff. "I think it's so rewarding that what you're bringing to them and talking to them about is something they're going to use and impart to the patients they see. It's wonderful to have something to offer that they can use and value."