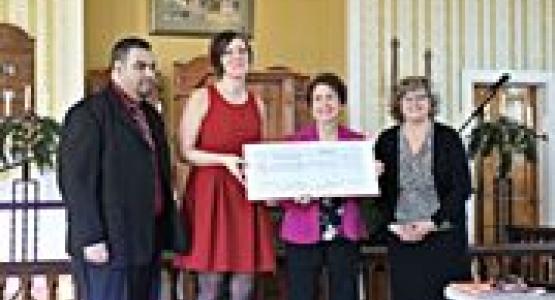 Parkway South Concert Raises Funds for Cancer Patients
January 27, 2015 ∙ by Anonymous ∙ in New Jersey Conference
Parkway South Concert Raises Funds for Cancer Patients
Story by Carrie Foulke
The Winter Family Aid Concert raised $1,022 for the Brendan Borek High Tides Memorial Fund (Brendan's Fund). Pictured L-R: Pastor Oscar Rodriguez, Ingrid Forss, Lydia Borek and Carrie Foulke
The Parkway South church in Marmora recently hosted the Family Aid Fund Benefit Christmas Concert to help support the Brendan Borek High Tides Memorial Fund. Borek was a local surfer diagnosed with bone cancer, who died at age 18. The fund provides assistance to Cape May County (New Jersey) children and their families dealing with cancer.
Ingrid Forss, pianist, and Karla Rivera Bucklew, vocalist, have performed spring and winter Family Aid concerts at the church since 2006. Forss, who is a member of the church, started the series as a way to help others in need. Since then the concerts have raised more than $12,000.
"We enjoy performing together and are glad we can use our musical talents to help others," says Forss about the collaboration with Bucklew. "The concerts are a great way for us to get involved in our community and practice friendship evangelism."
The ladies will host a spring concert March 14 at 6 p.m. Admission is free, but donations to the Family Aid Fund are greatly appreciated. Visit facebook.com/familyaidconcert to listen to music from previous concerts.
Feature photo caption: Ingrid Forss and Karla Rivera Bucklew perform spring and winter Family Aid concerts each year.