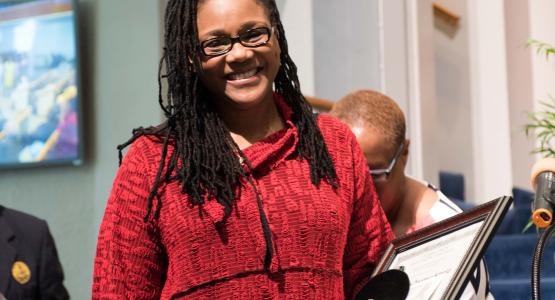 Dupont Park Teacher Receives Union Recognition
June 14, 2015 ∙ by Anonymous ∙ in Allegheny East Conference, Columbia Union News, Education
Dupont Park Teacher Receives Union Recognition

Story by LaTasha Hewitt
Cassandra Danley-Arnold, a teacher at Allegheny East Conference's Dupont Park Adventist Elementary in Washington, D.C., recently received the Columbia Union Office of Education's Outstanding Educator Award for the 2014-15 school year.
Recipients of this award have demonstrated consistent excellence in one or more of the following areas: use of creative, innovative teaching strategies; expansion of curricula and/or school programming; implementing programs and/or outreach that has significantly and measurably enriched the local communities served.
"I feel honored and humbled by this selection. I know that I ride on the shoulders of all the Christian educator's that modeled great teaching," says Danley-Arnold.
Read about the other award winners, Steve Doss and Dave Morgan.