ACS Volunteers Train for Disaster
August 30, 2007 ∙ by kkajiura ∙ in More
By Darriel Hoy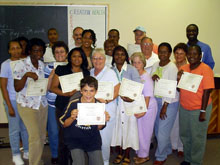 During a disaster, community members, volunteer organizations, and government agencies trust the trained volunteers of Adventist Community Services (ACS) Disaster Response to respond quickly and compassionately to disaster survivors. Columbia Union Conference Disaster Response coordinator Bob Mitchell recently trained 28 volunteers from Allegheny East, Chesapeake, ad Potomac conference churches to deliver fast and efficient disaster relief and recovery services. 
Sponsored by Baltimore ACS and hosted at the city's Liberty church, the training increased participants' awareness of the history, work, and services of ACS Disaster Response and certified participants in donation operations. Participants learned how the organization operates in partnership with government and volunteer agencies, and the various levels and chain of command for disaster response. The 30 volunteers are now equipped to educate their churches and volunteers with ACS Disaster Response. 
To learn how you can become a trained disaster response volunteer, contact Mitchell at (434) 296-6650, or contact your conference disaster response coordinator.