Members of Five Conferences Unite to Build Everett Church
November 28, 2007 ∙ by kkajiura ∙ in More
By Tamyra Horst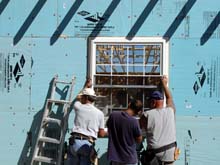 The Everett church has dreamt of having a new church for 12 years. They had outgrown their current facility, including limited space for classrooms and inadequate parking. The Lord provided, and they purchased land between Everett and Bedford. This location will enable the congregation to reach out to both communities, and places on land with a developing community center and future medical facilities.
Volunteers started arriving before sunrise. Ladies served breakfast under a small tent. As dawn peaked, people started moving toward the worksite and the Arise and Build big day for the Everett church got underway. Approximately 175 people from across Pennsylvania, New Jersey, Maryland, New York, and Virginia converged to build the new house of worship.
Everett church pastor Bob Snyder, wearing a "Pastor Bob the Builder" T-shirt, documented the day by taking hundreds of pictures. Retired Everett pastor Vince Dolan was also excited to help with the build and witness the realization of a long-time dream. By mid-morning, outside walls were risen and in place, trusses were being set up, and windows installed. Workers of various ages—teens to 80s—worked tirelessly, doing whatever they could. Altoona's local television station and newspaper both sent reporters to cover the story.
Once finished, the 10,600 sq. ft. church will feature seating for 175 in the sanctuary and fellowship hall, classrooms, a vaulted ceiling in the foyer, a lighted steeple, and a stain glass window etched with a dove at the front of the sanctuary.
Although it is not finished, the work done by volunteers gives the church an enormous head start and saved the congregation a lot of money. Volunteers, contractors, and members will continue working on the church in the coming months until it is completed.