Washington Adventist Hospital Celebrates a Century
November 14, 2007 ∙ by kkajiura ∙ in Adventist HealthCare
Photos by KevinKennedy.com and Celeste Ryan Blyden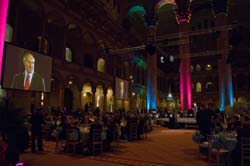 Washington Adventist Hospital (WAH) recently celebrated a century of improving the health and lives of people and communities by hosting a centennial celebration gala at The National Building Museum, in Washington, D.C. The event featured community dignitaries and guests, plus Grammy-winning recording artists Take 6.
 
All of us take pride in the physical, mental, and spiritual healing that has taken place at our hospital and in the community over the last 100 years," said president Jere Stocks of the milestone. "We look to the next 100 years with plans to expand access and provide compassionate healthcare to all the communities we serve."
In his remarks, William G. "Bill" Robertson, president and CEO of the hospital's parent company, Adventist HealthCare, shared his thoughts about the centennial, the mission, and the pioneers who committed their lives to healing ministry:
"The story of Washington Adventist Hospital is the story of the people who stood up for our future, and left a legacy of service and passion and love for God and their neighbors. As we celebrate our centennial, our opportunity is not only to look back, but to look forward. Our mission is unwavering: We demonstrate God's care by improving the health of people and communities through a ministry of physical, mental and spiritual healing. Those important words mean that our task is to seek to expand our healing mission, and to reach out to meet the needs of a diverse and changing community."
To learn more, visit www.washingtonadventisthospital.com.