New Church Plant in Bowie Flourishes
December 17, 2008 ∙ by kkajiura ∙ in Columbia Union News, Potomac Conference
By Taashi Rowe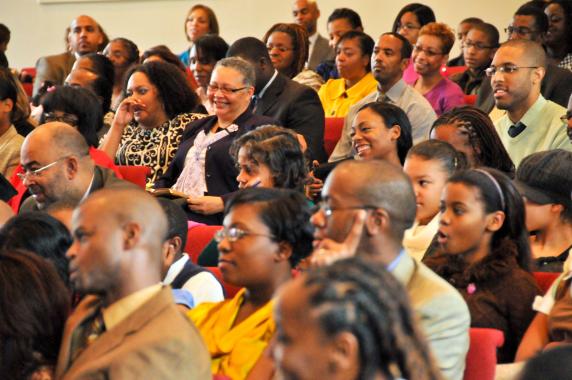 Two years ago several individuals from the Potomac Conference's Community Praise Center (CPC) in Alexandria, Va., set out to raise up a Bible-believing, worship-centered, and discipling Seventh-day Adventist Church in Bowie, Md. Recently the church had an official opening Sabbath celebration. 
The vision for the church began with CPC's youth pastor Melvyn Hayden III. "For the past two years they have been having Bible studies and working to build a congregation there," said Bowie pastor Paul Graham. "A lot of the folks come from the Prince George's County, Maryland area to worship at CPC. We thought maybe we can reach other people through the members who are living in the area." 
Graham, who previously pastored in New York, and his wife, Windy, have taken on the challenge of nurturing this plant. 
"We are getting six people ready for baptism," he says. "And we have the names of 63 people who want to know more about Jesus." 
The first Sabbath in a stand-alone building, the Capital Christian Church, also attracted members from other Adventist churches. Many of these people are being asked to help build up the membership. 
"We are looking for workers to come into Bowie and help give Bible studies and bring new people and especially those who have stopped attending church," he explains. "But we are not asking them to change their membership."
Graham, who lives in Bowie, says he is very excited about reaching the people in the community. 
For more information on the Bowie Project, the first Adventist Church in Bowie, Md., visit thebowieproject.org.