Washington Adventist Hospital Explores Spirituality and Medicine
October 08, 2008 ∙ by kkajiura ∙ in Health & Lifestyle
By Jennifer Gilroy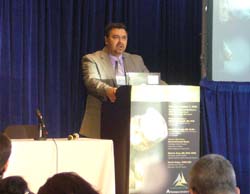 Washington Adventist Hospital, based in Takoma Park, Md., recently hosted its second "Spirituality in Medicine" symposium exploring the connection between spirituality and healing. The symposium brought in internationally recognized professors in medicine, cardiology, and psychiatry including Mitchell W. Krucoff, MD, a professor of Medicine/Cardiology at Duke University Medical Center; and Harold G. Koenig, MD, co-director of the Center for Spirituality, Theology and Health at Duke University Medical Center to share the latest in a growing body of research supporting the value of treating the whole person—mind, body, and spirit.
"There are some people who say that spirituality doesn't play a role at all in the healing process," said Ismael Gama (pictured above), associate vice president of Mission Integration and Spiritual Care for Adventist HealthCare. "However, medical research says differently, and it is nice to see science catch up with something that the Seventh-day Adventist Church has long believed in."
The symposium, led by Mark Turco, MD, director of the Center for Cardiac and Vascular Research at Washington Adventist Hospital and Gama, attracted some 150 medical professionals to the Music Center at Strathmore in North Bethesda, Maryland.