Alumnus Walks, Raises $2,300 for Pine Forge Academy
September 24, 2009 ∙ by owetmore ∙ in Allegheny East Conference
By Taashi Rowe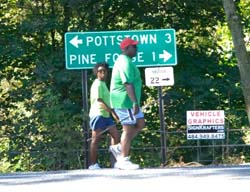 Clifford and Deniece Fields recently walked 130 miles to raise funds for Allegheny East Conference's Pine Forge Academy in Pine Forge, Pa. Clifford, a member of the Class of 1979, conceived the idea for the fundraiser while walking. 
"I was walking one morning—when I walk I pray—and I was praying for something to do to celebrate my 30 years since graduating," Clifford recalled. "Then the Holy Spirit said, 'you are doing it—walking.' When I shared the idea with my wife, she said, 'Good we are going to do it together.' She was my road partner the entire way.'"
The excited couple, and their daughter Nikki, thought it would be a great way to raise money for the school they held so dear. So Nikki set up a website, walkingtopineforge.webs.com, and enabled it to receive donations. 
"My mom believed in Christian education and all six of [her children] graduated from Pine Forge," Clifford explains. "Pine Forge has such a special place in my heart and my siblings' hearts. When I was there the motto was: The four best years of your life, we train leaders for the future. The school's leaders helped hone who I am today. When I graduated I knew I wanted to do something to give back."
He adds that having to memorize the "Dear Youth" passage from Ellen White's Messages to Young People (see pp. 36-38) truly crystallized his love for Pine Forge.
With that love in mind the couple set out on the seven-day long journey. "We were already walkers," Deniece explains. "But the most we walked was three miles a day three times a week and on Sundays we walked anywhere from seven to 10 miles. When we decided to do it we knew we had to build up our walking time. Before the walk, we made it up to 21 miles on a Sunday."
She recounts how the Lord blessed them to have church friends in the neighborhood to cheer them, and Pine Forge, along the way. 
"We learned that no dream is too small. [If we] share it with others there are a lot of people willing to help," she says. 
Both recall the kindness and encouragement they received from strangers along the way. One hotel manager had seen them walking and gave them a discount on their room as well as free breakfast and dinner. Another couple heard their story and gave them $100, while a roadside vegetable vendor gave them his day's earnings of $10 to support their goal. In all, the Fields' walk inspired $2,300 in funds raised for the school.
Clifford and Deniece are members of the Community Praise Center in Alexandria, Va.