Conference Commissions "Women for Impact"
March 16, 2009 ∙ by owetmore ∙ in Allegheny West Conference
By Carol I. Burks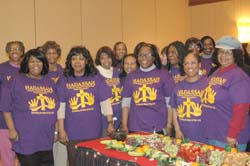 Women from across the Allegheny West Conference (AWC) recently gathered for a weekend of worship, fellowship, and relaxation. Called the Hadassah Conference, after Esther's Hebrew name, the event was hosted by the Women of Worship chorus from the Glenville church in Cleveland. The theme for the weekend was "Commissioning Women for Impact." Presenters spoke of faith, change, and consecrating oneself to God. All encouraged women to realize that salvation was a "a set up, to set us free from Satan's bondage."
The weekend began with a worship service in which the women were commissioned to ministry and the Word of God was spoken by Gina Brown, PhD, dean of the School of Graduate and Professional Studies at Columbia Union College in Takoma Park, Md. Her sermon was titled "At His Feet: Breaking Down the Strongholds in High Places." 
The conference was one of hope, change, love, and transformed the women from their old ways into new spirit-filled children of God. Carolyn Hurst, DPM, first lady of Southeast church in Cleveland, spoke for the divine worship hour. She shared that fear, worrying, and disbelief can kill, and encouraged the women to step out of their closet and seek change.
Shirley Benton, Women's Ministries leader for AWC was the midnight consecration speaker who admonished each lady to fully consecrate herself to God. Violet Cox, an elder from Glenville church, had everyone look at herself in a mirror and write down at least two things that they saw. They were told that whatever sinful characteristic they saw must be changed in order for God to use them. Miriam Holmes, first lady of Emmanuel Ministries, also spoke of change. 
Tears flowed and hearts were purified. The music, preaching, and fellowship made this event a hallelujah-singing, foot stomping, joyful time in the Lord. 
Jennifer Harden said the conference was "very empowering," while Madalyn Boddie Harden said it filled her with "sanctified exuberance."
Conference organizer Shiree Leggett said, "It was more than I dreamed it could have been. The Holy Spirit filled the place with the presence of God, so much so that you could see the ministering angels around each women, strengthening her to impact her community."