Women Encouraged to Trust in "the Lamb"
November 04, 2009 ∙ by owetmore ∙ in Allegheny East Conference
By Visitor Staff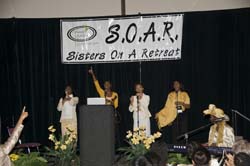 Nearly 500 women, hailing from the Allegheny East and West, Chesapeake, Potomac, New Jersey, New York, Northeastern, and South Atlantic conferences, as well as from community churches, attended the Allegheny East Conference's biennial Women's Ministries conference in Atlantic City, N.J. Themed "Redeemed by the Blood of the Lamb," the weekend featured inspirational music, fervent prayer, and eight power-packed and Holy Ghost inspired sermons. Guest speaker Augusta Olaore, from Babcock University in Nigeria, encouraged the women to dip all their concerns in the "Blood of the Lamb."
The conference, led by the conference's Women's Ministries director Minnie McNeil, featured 16 seminars, including Mother's Legacy; Making Relationships for Christ; Three Angels, One Mark, and You; and Soaking in Prayer With the Master.
"We have feedback from women who experienced physical, mental, and spiritual renewal and are seeking ways to become more actively involved in their churches and communities, some gained new and healthy friendships and are keeping in touch," said McNeil.
Intending to leave caring footprints on the sands of Atlantic City, women began the event by distributing 400 backpacks filled with personal care items to a local soup kitchen and worked with the Columbia Union's Adventist Community Services to present 150 blankets to the needy. They also donated $3,100 dollars to build an elementary school in Lesotho in southern Africa. Hope for Humanity matched the donation, bringing it to $6,200.
On Sunday morning, the women exchanged teacups with each other with a promise to pray throughout the year for that person whose cups they had. 
Running concurrently to the Women's Ministries conference was a retreat for young women ages 12-17 themed "Fierce, Fabulous, and Faithful." At the weekend's close, the young ladies spoke about their new values including internal beauty. 
"As daughters of Abraham, our eyes have been washed with the eye salve of the everlasting gospel; and we leave with joy, renewed faith, and thanksgiving and tools to face the challenges of life, knowing we are redeemed by the Blood of the Lamb!" McNeil exclaimed.