25 Ways Columbia Union Members are Helping Haiti
February 04, 2010 ∙ by owetmore ∙ in Columbia Union News
By Celeste Ryan Blyden | Photo Courtesy of Eden Garden Orphanage | Podcast Interview by Taashi Rowe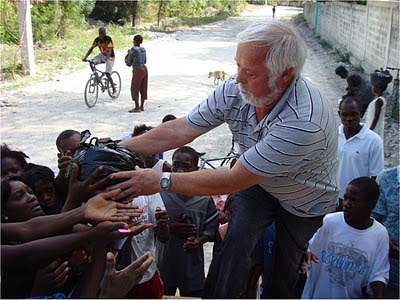 Columbia Union members are doing all they can to help the people of Haiti and help the Seventh-day Adventist Church rebuild its ministry there. As you know, there were 522 members killed and 27,000 are now homeless. As for our churches there, 55 churches were destroyed and 60 damaged. Here are some of the ways our Columbia Union members are helping Haiti:
1. The North American Division is sending $600,000 to help the church leaders in Haiti rebuild. The goal is to raise $1 million. To reach that goal, they're asking churches across North America to collect a special offering THIS SABBATH, February 6. Money will go to the Haitian Union Mission. Attached is the offering bulletin in English and Spanish. Members who wish to give online should visit https://appeal.nadadventist.org/Haiti.
2. The Columbia Union is sending an additional $50,000. Conferences within the Columbia Union are also sending aid. Pennsylvania, Potomac, and New Jersey are each sending $10,000; Chesapeake is donating $20,000; Mountain View is giving $5,000.
3. Many members are sending money to ADRA for relief efforts. 
4. Potomac's Restoration Praise Center held a fundraiser that yielded $3,000. Allegheny East's Miracle Temple held two fundraisers, noted in the Baltimore Sun that brought in $7,000. On Feb. 13, they'll do a third event with the Haitian Mass Choir from New York. Pastor Errol Stoddart says they're also sending medical teams to Haiti to serve throughout the month. 
5. Hispanic youth in the DC area held a fundraiser, as did members at Ethnan Temple in Pittsburgh. Celestial Music International is organizing a benefit concert at Potomac's Takoma Park (Md.) church, which will feature a number of local Adventists, including choirs from Takoma Academy, WAU graduate Audrey Moise, and The Altino Brothers.
6. Allegheny West has asked all of its churches to collect offerings. Ephesus Church in Columbus, Ohio, has already raised $10,000. 
7. New Jersey pastor and Haitian representative Smith Olivier says that in addition to their fundraising efforts, his members at Maranatha French (Newark) and Bethesda French (Roselle, N.J.) churches have solicited Wal-Mart, Macy's, Walgreen's, and other local businesses for clothes, shoes, basic necessities, medical supplies, water, etc., for Haiti and received a great response. 
8. In a daylong, on-air campaign, WGTS, the radio station at Washington Adventist University, raised $100,131 for Haiti. 
9. Kettering College of Medical Arts in Dayton organized a "Texting for Haiti" event where students and faculty raised $3,439.55. 
10. Potomac members Charles (pictured) and Gigi LeMorzellec, founders of Eden Garden Orphanage, survived the quake and are helping to provide relief. Several of our churches are supporting them including Chesapeake's New Hope church in Maryland. On Jan 13, 31 people from New Hope were scheduled to fly to Haiti to drill water wells, conduct medical clinics, and engage in other humanitarian activities (but obviously had to cancel that trip). Read more about their SOS Haiti ministry. 
11. Doctors at Grandview Medical Center in Dayton, part of our Kettering Adventist HealthCare, were featured in the Dayton Daily News for their trip to Haiti.
12. A graduate of Washington Adventist University is working on the hospital ship, the USNS Comfort, in a 50-bed med-surg unit. His name is Tom Diggs.
13. A group of doctors, led by Reginald Barnes, MD, from Allegheny East's Emmanual-Brinklow church in Maryland are now in Haiti working. 
14. Ohio's Spring Valley Academy hosted a coin drive for Haiti. In the first four days, they raised $2,284. Kindergarten student Cobe Quick eagerly donated his entire savings! Fifth-grader Lily Wheaton was inspired to use the $15 seed money she got from Kettering church intern pastor Christopher Terry's investment challenge. "When I heard about the coin drive, I knew in my heart this is what God wanted me to do," she says. Seventh-grader Nicolas Chaij gave monies he had received for Christmas and his birthday, while ninth-grader Sean McCartney contributed money from his college fund. READ MORE about this effort or LISTEN to chaplain Ken Knudsen talk about it.
15. Joana Mecena, a member of Allegheny East's Capitol Hill church in Washington, D.C., is now in Haiti with an Adventist-led group called Voices for Haiti. Their website has a list of supplies needed. 
16. Members from Chesapeake's West Wilmington church in Delaware was just featured in Wilmington's newspaper, The News Journal.
17. Fox News ran a video story about an Adventist church in Haiti that you can show your members this Sabbath when you collect the offering. 
18. Joy Lipscomb, head teacher at Potomac's Stanley school says her students pray every day for the people in Haiti. They also follow ADRA's updates on Facebook and have organized a Feb. 6 basketball tournament to raise money for ADRA's work in Haiti, and are planning a bake sale. 
19. Deborah Wasmer, a teacher at Pennsylvania's Lehigh Valley Elementary school in Whitehall, Pa., says the PreK-5 students will sing at a vespers program at the Allentown church on Feb. 27 to raise funds for Haiti. 
20. Principal/teacher Ann Trout says that students at Pennsylvania's Central Penn Christian School are teaming up with the Hershey church and the Haitian church in Lancaster to gather supplies for Haiti relief efforts.
21. Katie Swackhamer, head teacher at Pennsylvania's Fairview Village Adventist School in Fairview Village, Pa., will host a Valentine's-themed fundraising dinner Feb. 13 and share the income with the conference for Haiti relief efforts. 
22. Mary Conwell, principal of Allegheny West's Ramah Jr. Academy in Cleveland, reports that students in grades 4 and 5 who are taught by Celeste Giles, adopted an eight-year-old girl from Haiti last September and are supporting her financially. 
23. Ohio pastor Vergniaud Angrand of the Ebenezer French church in Columbus, Ohio, has joined with other churches to form Commission of Crisis of Columbus for Haiti (CCCH). Members of this organization are now in Haiti distributing food, clothing, medical supplies, water, tents, blankets, hygiene supplies, and more. Others will soon follow.
24. Members of Mountain View's Moorefield Spanish group in West Virginia, are cooking and selling authentic Spanish dishes to benefit Haiti relief efforts. "It is a great blessing knowing that we are helping the Haiti community," says one member. "This has been a event that has brought us together and made us realize that we are mortal and we need to be ready today for Jesus' soon return; tomorrow may be too late."
25. In the February Visitor, which is online and in the mail now, there's an editorial (on page 3) by a Haitian pastor reflecting on the disaster and a news article (page 6). If you don't get the Visitor, please email your name, address, and church to us, and we'll add you to the list. It's free to members. Also go online to read past updates on Haiti.