Potomac Brings Children's Camp to Session
June 29, 2010 ∙ by owetmore ∙ in Potomac Conference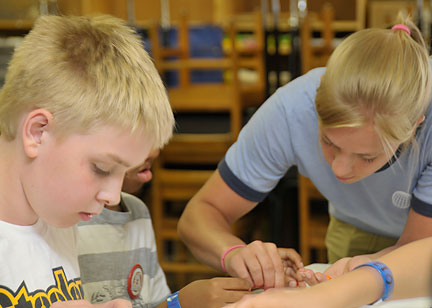 Story by Taashi Rowe | Photos by Rosann and Colin Martin
Buz Menhardt (pictured bottom), associate pastor of the New Market (Va.) church, knows how stressful it is to try to attend church business meetings and bring his children along. That is why he worked with Camp Blue Ridge, Shenandoah Valley Academy, Pioneer Memorial church (Mich.) and Andrews University (Mich.) to start a children's day camp here at the 59th General Conference Session in Atlanta.
"Our intent was to provide something for the children of the delegates and other attendees so the children can be occupied doing fun things," he said. "If we can have the best for our preachers then we should have the best for our children." 
The Potomac Conference had already established Fun Learning About God (FLAG) camp, a program that teaches children spiritual lessons in a camp setting. After speaking with Denny Grady, Youth Ministries director for the conference, both decided they would take the camp to GC Session. 
For $30 a day, children aged 6 to 12 are bussed from the Georgia World Congress Center to Carman Adventist School in nearby Marietta, Ga. Campers take music, nature, crafts and Bible classes in the morning then spend the afternoon swimming, water skiing and tubing at a nearby lake. 
The staff of 14 includes high school and college students who provide the youngsters with fun, fellowship, and friendship. Parents who are interested in registering can do so at the GC Day Camp kiosk on the first floor of the Georgia World Congress Center.