Allegheny East's Longest-Serving Community Service Members Honored
October 29, 2013 ∙ by cmckenzie ∙ in Allegheny East Conference, Perspectives
Story by Taashi Rowe
Pictured below: Callie Brown, Harriet Langley, Clifford Mae Fields, William Johnson, Jay Johnson and Gloria Simmons.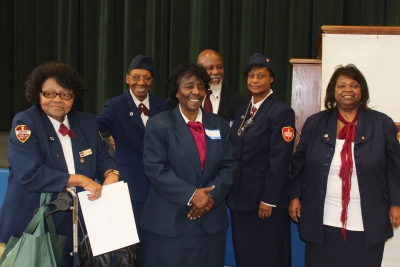 Harriet Langley, a member of Allegheny East Conference's Pisgah church in Bryans Road, Md., could never forget the Jefferson family. As a long-serving member of the church's Adventist Community Services (ACS) team, she had helped many, many people, but this family was different. "The father had gotten hurt on the job and couldn't work," she recalls. "When they couldn't pay the bills, he and his family were put out of the trailer they were living in."
 
She went on to help them find a hotel, but the manager claimed they were too much trouble and kicked them out in the middle of winter. It was then that Langley did something that she wasn't supposed to do. She moved them into her apartment and she and her fellow ACS team members worked to help the family find a home. Five months later, she found them a place to live. She continued working with the family for a year and a half. "Even when everybody else gave up on the family, she wouldn't give up on them," confirmed Jay Williams, a member of the Pisgah ACS team.
 
Why did she do this? "The daughters had babies," Langley said. "I have children myself and it could have been me."
 
At 82 Langley remains just as committed to helping people in the community as she was when she first became involved in the ministry in 1979. She was also one of 31 people who received the conference's lifetime service award for serving 20 or more years in Adventist Community Service. The awards were presented Sunday, October 27 at the conference's Washington Metropolitan ACS federation meeting. Federation leaders also recognized those who served for 10 years and five years. Members belonging to ACS teams from the Breath of Life church in Fort Washington, Md.; the New Joy Fellowship in Hagerstown, Md.; Dupont Park church in Washington, D.C.; First church in Washington, D.C.; and the Columbia Community church in Columbia, Md., were also recognized.
 
The Pisgah team, which includes several members who have served in ACS for more than 20 years, proudly serve the community through a food pantry, nursing home visits and youth outreach.
 
While the other areas of their ministry has grown over the years, the nursing home ministry is their largest outreach. Pisgah's ACS members don't just stop by for brief devotionals. Team members remember birthdays, check to make sure residents' needs are being met and give each resident lots of hugs.
 
"This is an excellent way to show people Jesus cares. Even though they can't see Him, they can see who He sends," shares Williams.
 
In speaking to attendees Sunday, Larnell B. Exum, director of Change Leadership Academy for Reach One Ministries, summed up what makes the ministry attractive. "Jesus had no problem dealing with people who had pre-existing conditions. This ministry is what this ministry does and this is why it is so important," he said.
An Opportunity for Unity 
In addition to recognizing those with longtime commitments to the ministry, the daylong meeting served as an opportunity to unify the 24 AEC churches in the Washington, D.C.-area.
 
Geraldine Bailey, the federation's vice president, says she hopes individual team members leave the meeting understanding what a mighty impact they can all have if they work together. "I think we can definitely better impact the community—our neighbors, members and friends—if we move as a group rather than as individual churches."
 
Cece Lester, MD, who became the new federation leader in March, agrees. "The world is hurting," she said and she has big dreams of how these 24 churches can comfort their neighbors. "We plan to have a disaster response van that goes out weekly to feed people and we are working on putting together a warehouse on one of our campuses so we can immediately reach people in crisis," she said.
 
At the end of the day, Minnie McNeil, the conference's ACS director, beamed proudly as she looked around the packed room. "I'm so proud of the progress this group has made in God's name and where they are going next," she said.