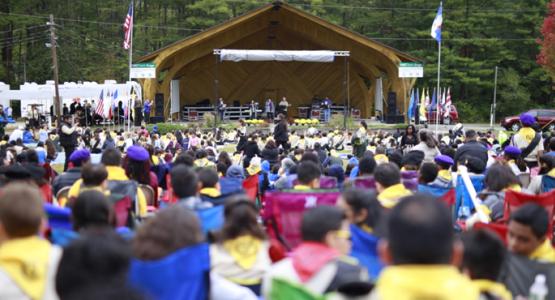 Columbia Union Conference Hosts "Fearless" Camporee
October 10, 2016 ∙ by vmbernard ∙ in Columbia Union News
Story by V. Michelle Bernard / Photos by Brian Tagalog
More than 3,000 Pathfinders attended "Fearless," the largest camporee in Columbia Union Conference history, October 6-9.
The Pathfinders camped, worshiped and participated in activities at the Schuylkill County Fairgrounds in Schuylkill Haven, Pa. Throughout the event, attendees earned an estimated 1,500 Pathfinder honors and 90 Adventurer awards on topics ranging from circulation and heart health, kites, social media and worms to biblical archaeology and more. They also navigated a ropes course, drill competitions, enjoyed fair-type activities, slid down a zip line, climbed a rock wall and more.
"I'm afraid of heights, but I still wanted to [climb the wall]. It was a cool experience to try it," says Genesis Acevedo, a member of the Pennsylvania Conference's Fortress Dwellers from the Lawndale Spanish church. "Even if you are afraid, you never know until you try."
One of the goals of planners was to challenge the Pathfinders to be "Fearless" for God. "We wanted them to make commitments in their spiritual lives that will prove to take them deeper and [encourage them to be] more committed to the God who loves us so much," says Sherilyn O'Ffill, assistant camporee organizer and the Potomac Conference Pathfinder director.
On Sabbath afternoon Pastor Jonatan Tejel baptized Juan Gonzalez (pictured, right), a member of the Potomac Conference's Patriots Club from the Fairfax (Va.) Spanish church. O'Ffill reports that dozens more made decisions to be baptized at their local churches.
Pamela Scheib, Columbia Union Conference Pathfinder and camporee director, adds, "I believe both Pastor Tejel and Pastor Armando Miranda Jr. made spiritual growth very much a part of their talks." 
At the morning and evening meetings, Tejel, General Conference associate youth director and Pathfinder world director, shared Bible stories and his own experiences about being fearless.
"We all have fear sometimes. ... I really think that to overcome any kind of fear in our lives, it is something that only God can do. If we want to become fearless [we must] walk with Jesus and He will give us what we don't have. He will give you what you need."
Dave Weigley, Columbia Union president, also spoke to the crowd Sabbath morning. "Pathfinders, live your dream for God, no matter what His calling is for you," he shared.
Armando Miranda Jr., director for club ministries at the North American Division, spoke at the closing meeting Saturday evening, further encouraging the Pathfinders to take a leap of faith and be fearless for God. Many Pathfinders came forward and accepted Jesus as their personal Savior following his sermon.
"I feel like no matter what trials I face, God is always right next to me so I can be fearless," says Chelsea Maclay (pictured below, left, with Alaina Zill), of the Mountain View Conference's Parkersburg (W.Va.) Panthers. "I've always known God is with me, but I feel it now."
To see more videos and photos from the camporee, visit columbiaunionvisitor.com/cufearlessphotos.