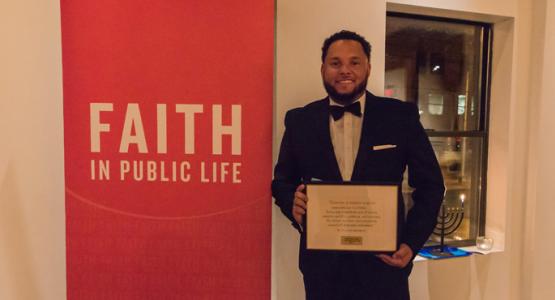 Allegheny West Conference Pastor Honored as "Faith Leader of the Year"
December 14, 2017 ∙ by vmbernard ∙ in Allegheny West Conference
Story by Visitor Staff
The Ohio branch of Faith in Public Life recently recognized Jason Ridley, Youth director for the Allegheny West Conference, as the Faith Leader of the Year.
"We at Faith in Public Life have been inspired by Pastor Jason Ridley's prophetic leadership this year. He has used his gifts and calling to work for justice in the Hilltop neighborhood—where his church is—at the Statehouse, City Hall, and all the way to Washington D.C. Pastor Ridley has fought to end police violence and maintain health care. He is Ohio's Faith in Public Life Faith Leader of the Year for his work for justice, compassion and the common good," says Dan Clark, director of the Ohio branch of Faith in Public Life.
Ridley is passionate about this work because he says he has a moral duty and responsibility. "Ministry is not just preparing individuals for the second coming of Christ, but it's also about helping and fighting for people to have a better quality of life while we're living here on earth. This only happens when there's equality for all," he says. Ridley wants to continue educating Seventh-day Adventist members about how they can also help.
Ridley, who will soon serve as a national board member of Faith in Public Life, says that this involvement in the organization and community has opened doors for the church. "I'm now in contact with people who, when I was the pastor at Allegheny West Conference's Hilltop Community Worship Center in Columbus, Ohio, wouldn't even visit my church. [But] because of my involvement in this work, I now see people who didn't believe in God or have a relationship with Him who now want to open up meetings and prayer rallies and talk about faith."