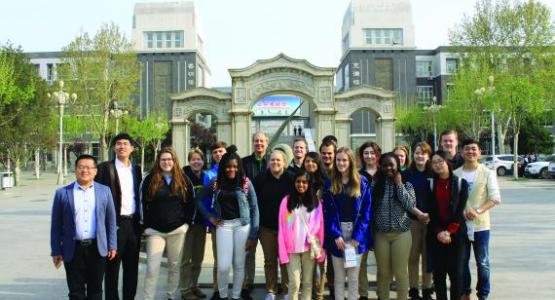 Bell Choir Evangelizes Through Music Education
June 21, 2017 ∙ by kkajiura ∙ in Pennsylvania Conference, Education
Story by Dave Morgan
Blue Mountain Academy's (BMA) LaSonnette Bell Ensemble recently traveled to China to perform for students in Shijiazhuang and Lin'an. The trip was organized by Ma Shida (Owen), special Chinese ambassador to BMA, to help introduce his academy friends to his country.
While many BMA students were excited about standing on the Great Wall, this experience was quickly eclipsed by the relationships and connections they made with the Chinese students in the two cities.
Esther Reese, a BMA staff member and host for an international student, was overcome with emotion when the parents of current Chinese BMA students stood in front of a room of more than 200 people and sang "Amazing Grace." These parents later shared they are currently taking Bible studies from an Adventist in China so that they can understand what their children are learning in BMA's Introduction to Christianity class.
Eric Engen, hand bell director, shares, "The trip to China showed me that God can use the influence of a small group of teenage musicians to reach out and build relationships with families around the world. It made it especially personal when our students were able to stay with different host families for a couple of nights. Some of them had the experience of being able to talk about their belief in Christ with these families. The effect of this opportunity will only be known in eternity." 
The group played their largest event before an audience of some 500 students and school officials, and it was broadcasted to 8,500 other students over closed-circuit TV. They performed their regular repertoire, based on sacred music, hymns and classical pieces.
Freshman Brandon Reese states, "For a communist country, they opened their hearts to us in so many ways. When we left China, there were tears in the students' eyes. A part of me will always remain in China. I hope I will be able to go back and continue the Lord's work that has been started there."
Senior Justine Kline prayed that God would bring her a student to share His love with. The next day, two students approached her and timidly asked if she was a Christian. She answered, "Yes," and the two students began to share their love for God as well. Kline shares that although standing on the Great Wall was incredible, this specific answer to prayer was even more powerful!
Our mission to provide a Christ-centered Adventist education that leads students into a life of service is alive and well! At BMA we are not called to sit; we are called to "Go!" 
(Photo: Members of the LaSonnette Bell Ensemble, along with Ma Shida (far right), special Chinese ambassador to BMA, explore the gates of the Zhending High School in Shijiazhuang.)