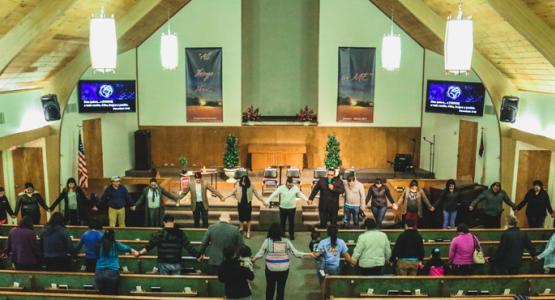 Deportation Fears Keep Immigrant Members Away From Church
March 22, 2017 ∙ by vmbernard ∙ in Columbia Union News, Chesapeake Conference, Ohio Conference, Potomac Conference
Story by Sylvia Garcia Urrutia / Photos by Garcia and Hector Perla
In recent months, newly proposed United States immigration policies have caused a wave of fear among many Seventh-day Adventist church members and their families across the Columbia Union Conference, making some too afraid to attend church. One pastor of a Potomac Conference Spanish church in the Washington, D.C., area has noticed a decline in attendance at his predominately immigrant congregation. "Especially during those first few weeks after [the] election, I noticed a large decline in attendance among my members. They stayed home out of fear," he says.
Peter Simpson, Ohio Conference Hispanic Ministries coordinator, said he has seen a decline in attendance in churches across the Ohio territory. "We have seen many members living in fear, even opting to stay home in fear of getting arrested by ICE (U.S. Immigration and Customs Enforcement) on their way to or from church. Attendance has declined significantly. Two families from the small Ohio Spanish church have already packed up and [returned to] their home country. [They were a] significant part of that church. And there are talks of other families in the conference planning to do the same."
One principal of a Seventh-day Adventist school in Virginia reports that parents approached her, asking if the school would hold a notarized note saying who their children should stay with if they were deported.
Creating a Sense of Peace and Hope
Rubén Ramos, vice president for Multilingual Ministries at the Columbia Union Conference, reports that there are more than 40,000 members in multilingual churches in the union. "They're providing an essential contribution to Christ´s missions in our territory. A real sense of uncertainty, fear has filled the immigrant communities around us. Therefore, we have now a great opportunity to bring assurance and faith to so many in the community, transforming our congregations in to centers of hope."
Pastors across the union are working to create a sense of peace and hope among their congregations. Orlando Rosales, Hispanic Ministries coordinator for the Chesapeake Conference and pastor of the Baltimore Spanish church, says a main goal of his ministry team is to communicate God's protection. "We want them to find hope in God's hands," he says.
Simpson and other pastors say they have been emphasizing God's protection and hope in recent months through their sermons. "At first, we saw a lot of insecurities, but, as time has gone on, we have seen that they have started to calm down [some] and attend church again," says one Potomac Conference Hispanic pastor.
Hispanic churches are also aiming to provide information through workshops with immigration lawyers who provide counsel and instruction on how to handle an ICE encounter. Katherine Canto, an immigration lawyer from Towson, Md., and a member of the Baltimore Spanish church, recently held an immigration workshop (pictured above) at her congregation. Canto, too, has noticed a sense of fear in the church and community at large. "The current situation has either caused people to go deeper into hiding or it has caused them to move into action and work on their immigration status."
Many lay members have also been ignited with a sense of urgency to minister to those affected by the new policies. Anissa Perez-Perla (left), Personal Ministries director at Potomac Conference's Arise church in Silver Spring, Md., and founder of DC Adventists for Social Action, organized a "Know Your Rights" workshop and prayer event at the Potomac Conference's Washington (Md.) Spanish church in February. Perez-Perla recruited three area pastors to assist in planning the event, which drew both church and community members.
"Fear and uncertainty/uneasiness have increased among the immigrant community (both in our pews and in the streets). I know of individuals who have packed their luggage just in case they get sent back to their birthplace, which sometimes is a place they know nothing about since they were raised here during their formative years, " notes Perez-Perla. "Our goal was to allay immigration-related fears and at the same time educate and empower the Latino community."
Program presenters included both church and local community leaders, including the Consul General of El Salvador, a delegate from Prince George's County, the Montgomery County Police Department's Hispanic Liaison, and a representative from U.S. Senator Chris Van Hollen's office. "Our plan is to hold another one of these independent ministry events at an area church in May 2017 (and other areas to follow)," explained Perez-Perla. "[This meeting] encouraged the audience to hold on tighter to Christ and have faith despite the current climate of fear and uncertainty. It was exactly what was needed."
Though Perez-Perla says these workshops at churches are helpful and necessary, she hopes to see the Adventist church in general be more involved as an advocate for immigrants.
Caption: (Left to right): Cónsul General of El Salvador, Ena U. Pena; Lillian Cruz, Office of U.S. Senator Chris Van Hollen (Md.); Carlo Sanchez, Prince Georges County Delegate (and member/Elder of Washington Spanish Church); Blanca Kling, Montgomery County Police Department Hispanic Liaison; and Maria Herrera, Maryland Spanish Speaking Community Representative and Montgomery County Committee on Hate and Violence (COHV) Member