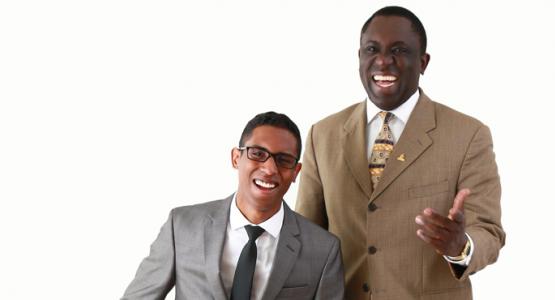 July/August 2017 Feature: In the Same Boat
July 01, 2017 ∙ by owetmore ∙ in Ohio Conference, This Month's Issue
Story by Pam Humphrey | Photo by Simon Yao
Tip: We have learned how important it is to have someone—a colleague or friend—close to you in ministry to share good and challenging moments.
While Roy Simpson was growing up, his dad, Peter, always cut his hair, except for a few years when "I wanted to do things my way," says Roy, who used to think he was very different from his dad. That changed after working with him as a volunteer at the conference office where they shared many conversations. Those talks "made me realize that we have so much in common, especially our passion for ministry," says Roy, assistant treasurer for Ohio Conference. 
Peter, who also works for the Ohio Conference as a pastor of the Cleveland Hispanic district and the Hispanic Ministries director, recognized early on that his son had a heart for ministry. "As a young boy, Roy heard the call to be a missionary and decided that the only thing that could bring him happiness was serving God and His church."
Roy, whose grandmother, grandfather, great-grandmother and great-great-grandmother were pastors in various churches, adds, "I was immersed in a life of ministry at a very young age. My father devoted his life to pastoral ministry, and our family was always involved in church activities."
For some father-son combos, working day to day in the same office might present a challenge. But not so for the Simpsons. "It's the most wonderful experience to know that we're in the same boat, serving the same God and working in the same organization. We're doubly blessed—as family, and as coworkers in ministry," says Peter. 
Even though the pair now live two hours from each other, Roy still asks his father to cut his hair. "Before it was just something we had to do. Now it's a time for bonding."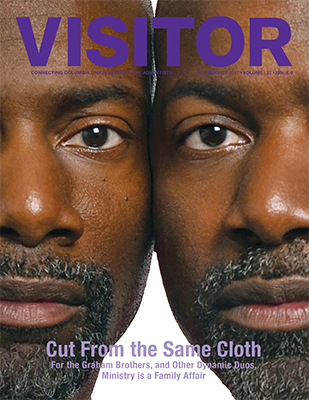 Read the July/August 2017 Visitor: