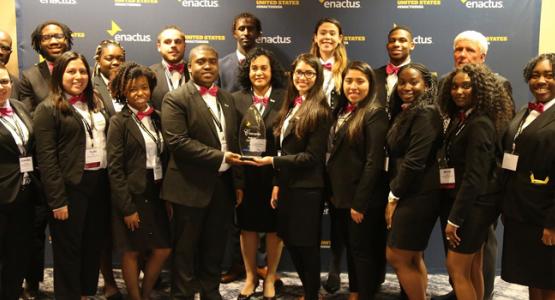 WAU Enactus Team Named Regional Champion at the Enactus United States Regional Competition
April 05, 2017 ∙ by vmbernard ∙ in Washington Adventist University, Education
Story by Donna Bigler
Washington Adventist University's Enactus business team earned the title of Regional Champion at this year's Enactus United States Regional Competition, held March 31 in Washington, D.C. The event is one of six regional competitions held across the United States. 
During the competition – which included teams from Rutgers University, University of New Hampshire, University of Virginia, Elmira College and West Virginia Wesleyan College – the Washington Adventist University (WAU) team was judged on three projects that it worked on this academic year.
All of the WAU projects were conducted in the Takoma Park community, including a new program entitled "Women Empowerment." The program helps at-risk unemployed Hispanic women to develop workplace skills, and provides them with classes in ESL (English as a Second Language) and cultural competence. The Enactus team also helped them cultivate job search skills, write resumes and cover letters, and perform confidently in interviews.
The WAU Enactus team also presented its Rainbow Coin Laundry project, which this year helped the laundry bounce back from a series of setbacks, including a fire last August that reduced patronage by approximately 40 percent and an increased ICE (Immigration and Customs Enforcement) presence that reduced the number of regular customers by another 10 percent. The team helped the business owner reduce his costs by 15 percent and helped establish measures that are expected to boost revenue by 30 percent in the coming year.
Health Lingo was the third project presented by the WAU Enactus team at the competition. It focuses on building a healthy community by providing seminars and keep-fit activities. More than 25 people signed up to participate in the fit-bit 10,000 steps/day program, and their improved health is expected to increase productivity.  
"I've learned many lessons as a leader along the way," said Heather Alas, President of Washington Adventist University Enactus. "With the help of God and a dedicated team, we were able to make it past regionals once again. I am very thankful to everyone who made this accomplishment happen."
The WAU Enactus team is now preparing to participate in the Enactus National Competition and Exposition in Kansas City, Missouri that will be held May 21-23, 2017.
 Enactus is an international nonprofit organization that is active on more than 1,500 university campuses in 36 countries. Enactus teams create economic opportunities in their communities by organizing outreach projects that focus on market economics, entrepreneurship, personal financial skills and business ethics. Enactus teaches students the positive power of businesses through service learning. For more information, visit www.enactusunitedstates.org.