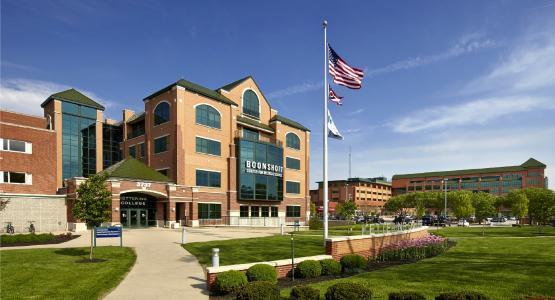 Low Student Loan Default Rates Reflect Kettering College's Commitment to Affordability
November 15, 2018 ∙ by vmbernard ∙ in Kettering College, Ohio Conference, Education
Story by Lauren Brooks
This fall, the U.S. Department of Education released the official three-year cohort student loan default rate for all domestic and foreign postsecondary schools for fiscal year 2015. This rate refers to the percentage of a school's borrowers who defaulted on their student loans within a three-year period. Kettering College's official cohort default rate is 2.9 percent, well below the Ohio average of 12.2 percent and the national average of 10.8 percent.
Adam Brown, Dean of Student Success, says the low student loan default rate reflects affordability and value of a Kettering College education.
"We're very proud of our low student loan default rate, which shows the value of investing in an education from Kettering College," Brown said. "It's an indication that Kettering College graduates are finding jobs in their desired field and are able to repay their student loans consistently and quickly."
The rate also reflects Kettering College's dedication to preparing students for life after graduation, Brown said.
"We've built our model to give students the education and experience they need to enter the growing health care field upon graduation," Brown said. "Our accelerated programs give students the option to focus on a full-time pace study so they can fast-track their degree completion and find a job right away while taking out fewer loans."
According to the
Bureau of Labor Statistics
, employment in the health care industry is projected to grow 18 percent by 2026, creating about 2.4 million new jobs. Kettering College's innovative curriculum was developed to prepare students for careers in the most in-demand areas of health care. Through its partnership with the Kettering Health Network, Kettering College provides students with a path to a fulfilling career within the network. Many departments have 100 percent job placement.
"Students see the value of Kettering College because of our connection to Kettering Health Network," Brown said. "They know they'll have opportunities to pursue a career in a thriving, faith-based health network that shares their passion for service."
Another way Kettering College makes sure students are well prepared to pay off their loans is by providing loan exit counseling and advice for financial planning after graduating. It's just one more aspect of how Kettering College is helping students to lead a financially-responsible life.
"The majority of our students use federal aid to pay for their education, and it's our job as educators to make sure our students are well-prepared to pay off their loans," Brown said.
"At Kettering College, all graduating students sit down one-on-one with a financial aid counselor to ensure they understand their loans and repayment options. It's another benefit to being a small college  – we're able to help students make a customized plan so they're on the right track to begin paying back their loans after graduating."