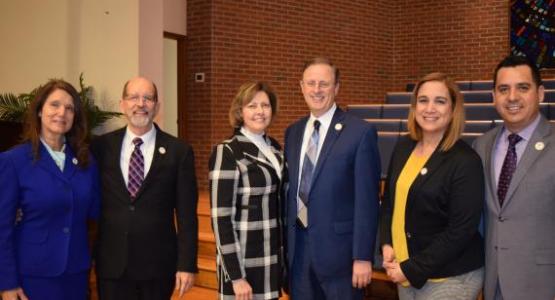 Pennsylvania Conference Officers Re-elected for Five Years
November 15, 2018 ∙ by rbacchus ∙ in Columbia Union News, Pennsylvania Conference
Story by Tamyra Horst
Delegates to the Pennsylvania Conference's sixth Triennium Constituency Session recently re-elected conference officers and departmental directors. The leadership team will serve for five years, as, moving forward, delegates voted to move to a quinquennium.
"God has called us to reach the world, and He has assigned us this corner of Earth's real estate. This is why our new mission statement is "Reaching Everyone, Everywhere," Gary Gibbs, president, challenged delegates. "This is not just my mission. It is yours too. It is all of ours. That's why it is all about Total Member Involvement—united together, we can fulfill the mission."
Attendees listened as conference leaders shared how God has blessed in the last three years. Carlos Charnichart, treasurer reported a 5.85 percent tithe increase. Laurel Lake Camp, the conference's youth camp and retreat center, has steadily increased the number of people attending various events and saw record attendance during 2017's summer camp program.
Will Peterson, executive secretary, reported more than 550 people joined churches across Pennsylvania in 2017—a 2.62 percent growth in membership. Delegates engaged in discussion regarding the challenges of operating a boarding school in today's world. Conference leaders shared several new initiatives to help parents and students afford an Adventist education, including creating a new recruiter role at Blue Mountain Academy in Hamburg, Pa., and beginning a literature evangelism program for all schools that would create opportunities for parents and students to raise funds for tuition. Gibbs also introduced Dee Casper, director of the Conference's CORE ministry, a nine-month ministry training program for young adults.