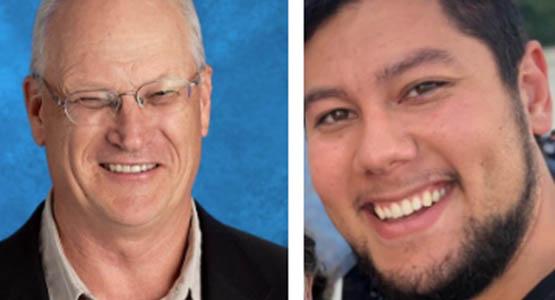 New Faculty Members Join Highland View Academy
September 26, 2019 ∙ by rbacchus ∙ in Chesapeake Conference, Education
Story by Andrew Lay
This school year, Harry Janetzko (left) became the Chesapeake Conference Highland View Academy's (HVA) new principal. Janetzko grew up in North Central Ohio, where both he and his wife, Linda, graduated from Mt. Vernon Academy. They have three adult children. Janetzko has been in education for 41-plus years, teaching students from early elementary school through college. Most recently he served as the Bible teacher for grades 6–12 and vice principal at Tri-City Christian Academy in the Carolina Conference (N.C.).
Janetzko's goals for the new year include building on the school's spiritual growth; providing a safe school environment for learning; supporting faculty and staff in encouraging high standards for their students; developing a culture of mission and service; and helping faculty and students understand their roles as Seventh-day Adventist Christians at this time in Earth's history.
His team-building approach will empower staff to be creative and innovative as they develop a quality school program that honors God. He enjoys watching young people understand their identity in Christ and press forward in making a difference in this world for the cause of Christ.
Janetzko is passionate about quality Adventist education and believes HVA plays an important role as the boarding school in the Chesapeake Conference. He looks forward to meeting the students and their families, and is excited to see how God will bless as the school administration prays and seeks His guidance.
Reed Kenji Nomura serves as the new math teacher. He comes from the East Hamilton Middle High School (Tenn.) where he was the honors statistics and honors pre-calculus instructor and sponsor for the peer tutoring club.
"I love the connection that I can make with the students," says Nomura. "I had many fantastic teachers that inspired me, and I love having the opportunity to be that for someone else."
HVA alumnus Nomura ('10) grew up in the Hagerstown area with his brothers Marc ('01) and Alin ('03), while his dad, Randy, served as both faculty and principal at HVA. A graduate from Southern Adventist University (Tenn.) with a Bachelor of Science degree in mathematics, Kenji is looking forward to working with the students to achieve excellence in mathematics, computer science and robotics, and is welcomed as the newest teacher for HVA's STEM certificate program.
"My goal is to help lift up HVA and my students in any and all ways to which God calls me," Nomura says. "Plus, I have a long history with the school and the area, and I am excited about being back to see how everything has changed and grown. I'm looking forward to coming back 'home.'"