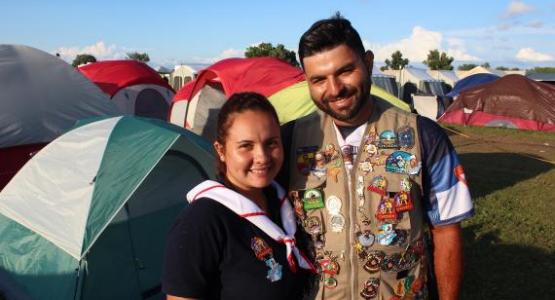 Potomac Couple Engaged at Pathfinder Camporee
August 19, 2019 ∙ by vmbernard ∙ in Potomac Conference, Pathfinders
When Maricris España, a staff member of Potomac Conference's Langley Park (Md.) Conquistadores Pathfinder Club, walked on the stage during the Wednesday night meeting of the 2019 International Pathfinder Camporee, she didn't know that she was in for a big surprise.
She thought that her club had won a prize and was going to meet Ryan Bomgardner, Christian ventriloquist and comedian, and his puppet, Lily the Lamb, who shared stories and quizzed the crowd each night.
But on this night, after one easy question, he told her the second question had never been asked on a Pathfinder Camporee stage before. Bomgardner then asked her to turn around, and she saw her boyfriend of more than two years, Irvin Josue Jacinto Miranda, on bended knee.
Miranda says he had a proposal speech prepared, but was nervous in the moment and just proposed to her.
España said, "Yes." The crowd swooned. They embraced.
Jacinto said he started planning the proposal five months ago when he messaged Pastor Ron Whitehead, director of the camporee and the Center for Youth Evangelism, on Facebook, asking if he could propose on the main stage. Jacinto says that up until the day of the proposal only Whitehead and a few other staff knew about the plan. But he eventually enlisted the help of his uncle to help convince España to go on stage.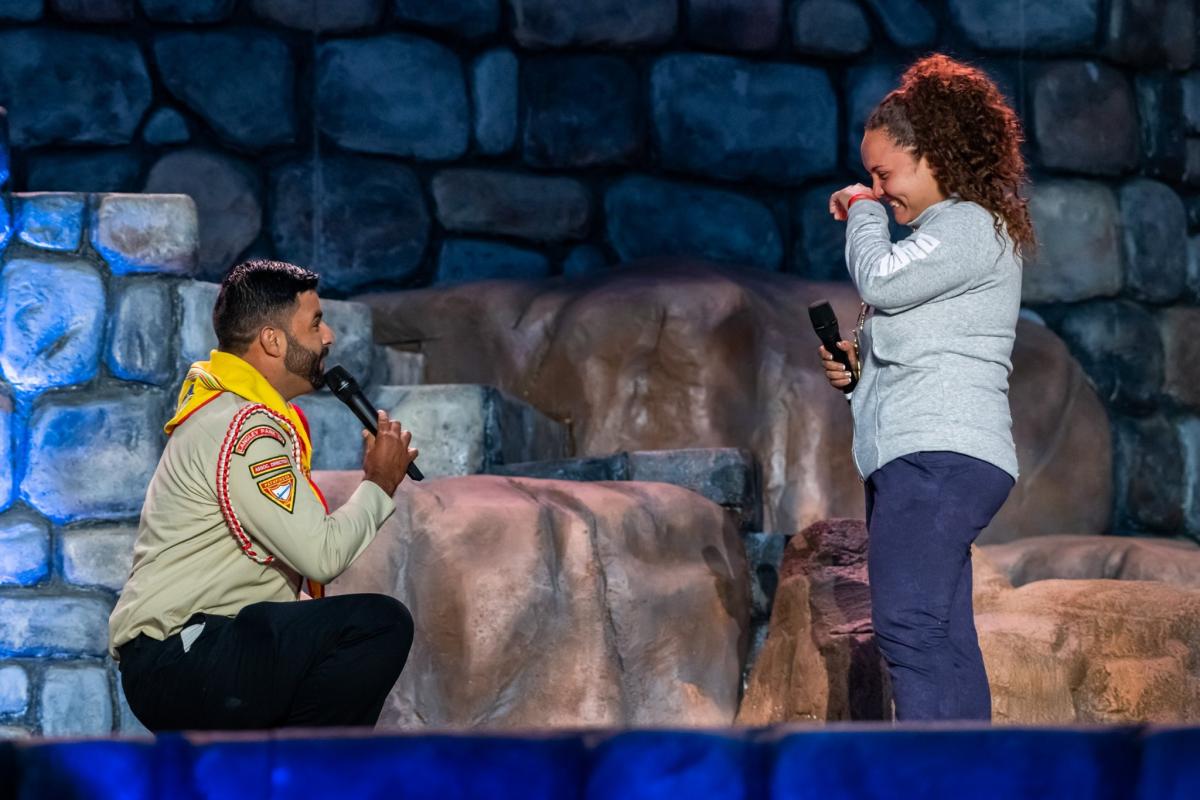 España said she had a dream prior to the camporee that Jacinto proposed. When she asked him about it, he had to turn away so as not to ruin the surprise.
When asked why he wanted to propose during the camporee, Jacinto, who joined Pathfinders in 2005, says "Pathfinders is my life," and it is a great way to keep children involved in the church. He wasn't able to attend the 2009 camporee because "my mother said I was too young," he says, but enjoyed the event in 2014 and thought proposing would make this year's event more special.
The couple is planning to get married next year. Their wedding will involve nods to their love of Pathfinders, including Jacinto wearing a dress white uniform, more popular in Guatemala, where the couple both immigrated from, he in 2001, and she in 2017. España will wear a more traditional white dress. They are also discussing having a Pathfinder-themed cake.
Read these other stories from the Camporee: