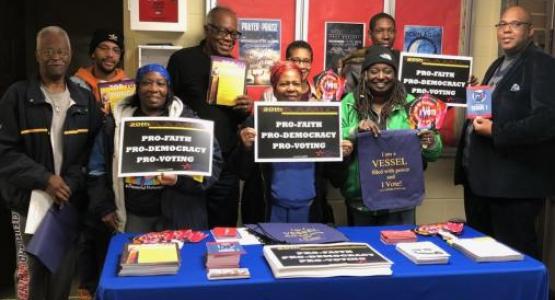 Southeast Church Mobilizes Voters
January 24, 2019 ∙ by rbacchus ∙ in Allegheny West Conference
Story by Bryant Smith
Allegheny West Conference's Southeast church in Cleveland hosted a "Get Out To Vote" rally the Sabbath prior to Election Day. Guests included Charles Clark, National Outreach coordinator for the American Federation of Labor and Congress of Industrial Organizations (AFL-CIO); Tony Minor, state director for the African American Ministers Leadership Council; and Harriet Applegate, executive secretary of North Shore AFL-CIO.
Jerome Hurst, senior pastor of Southeast and also the Public Affairs and Religious Liberty director for the Allegheny West Conference, spoke for the divine worship service. He encouraged and challenged attendees to vote, tell five people to vote and drive five people to the voting polls. This rally was just one of many initiatives Southeast has been a part of in preparation for Election Day.
Prior to Sabbath, members canvassed the surrounding neighborhood and encouraged people to register and to verify their registration. Church members also volunteered to give rides during the early voting period.
Erin Kelly, a young adult member and canvasser, expressed how being involved in this initiative was important to her because of the sacrifices that had been made for her to have the right to vote. "I want to do all I can to motivate and educate individuals on their responsibility to cast their vote. We as a race have not always had the right to vote. I want people young and old to be engaged in the process because this is how their voice is heard," she says.