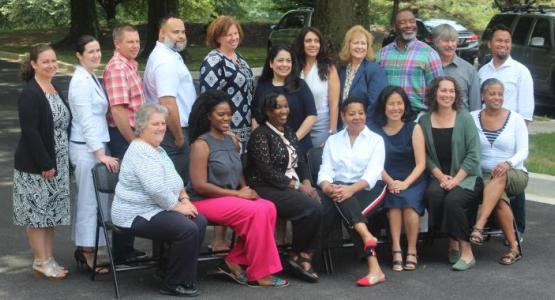 Union Kicks Off Second Year of Leadership Coaching Program
July 11, 2019 ∙ by vmbernard ∙ in Columbia Union News, Education
Story by Edwin Manuel Garcia
Participants from around the Columbia Union Conference gathered at the union headquarters in Columbia, Md., this week to kick off the second year of the Advancement of Christian Education (ACE) Academy Leadership Coaching initiative.
The year-old initiative is guided by seasoned outside experts connected to the union. Participants include 20 educational leaders with varying degrees of experience who are being offered the tools and training to be successful, and hopefully, will be motivated to stay at their jobs longer.
The program is receiving rave reviews from participants, says Jacqueline Wheatley Messenger, an educator for more than 30 years who currently serves as the union's associate director for Secondary Education. ACE is run by the NYC Leadership Academy (NYCLA), a forward-thinking organization that has trained more than 550 emerging leaders and helped stabilize the constant churn of New York public school principals.
Tapping a national training program known for fixing large and troubled educational systems may seem like an unusual mismatch for small Adventist schools, but the organization has a highly successful track record for extending the tenure of principals.
"Our goal is to have sustainable leadership," says Messenger. "I want to see our schools not only survive, but grow."
A three-way partnership between the union, its eight conferences and the Bainum Family Foundation, whose founders are Seventh-day Adventist, fund the project.
The initiative brings educators together in person, online and over the phone, where experts teach a variety of skills, including how to better relate to the changing racial and ethnic makeup of their schools, how to navigate difficult situations and how to tackle a principal's ever-demanding to-do list.
The following leaders from Columbia Union Conference schools are part of the inaugural cohort for the Advancement of Christian Education Academy Leadership Coaching initiative.
(Back Row) Jeanne Marie Garcia, Beltsville Adventist Academy
Elisa Maragoto, Lake Nelson Adventist Academy
Darren Wilkins, Spring Valley Academy
Jennifer Hackley, C. F. Richards Christian School
*Ruth Nino, Waldwick Seventh-day Adventist School
Judie Rosa, Spencerville Adventist Academy
*Jacqueline Messenger, Columbia Union Conference
H. Clifford Reynolds, III, Pine Forge Academy
*Keith Hallam, associate director of Education, Southern Union Conference
Jerson Malaguit, Beltsville Adventist School
(Front Row) Wendy Pega, retired educator
Ellenor Paul O'Neil, Spencerville Adventist Academy
Celeste Giles, Ramah Junior Academy
Valerie Green, Worthington Adventist Academy
Miya Kim, Atholton Adventist Academy
Beckie Carbaugh, Frederick Adventist Academy
Elyna Barnhill Howard, Lake Nelson Adventist Academy
* ACE faculty