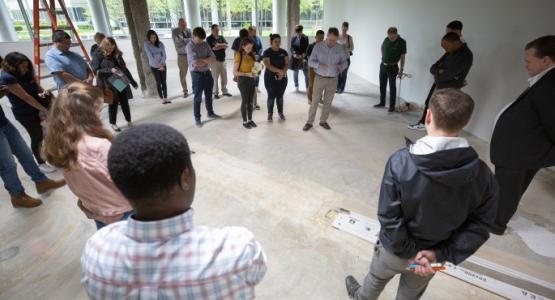 WGTS Staff and Volunteers Pray for New Ministry Center
June 17, 2019 ∙ by Web Administrator ∙ in WGTS, Columbia Union News
Story by WGTS Staff
A large group of board members, staff, Adventist pastors, supporters and volunteers gathered in April to pray together and request God's presence and blessing on WGTS' new ministry center in Rockville. "It was an incredible experience to dedicate the space and all involved to the work God has called us to," says General Manager Kevin Krueger. Greg Scott, Associate Director at Adventist Review Ministries, says, "It was an honor to participate … I am excited to see what God is going to do with and through this new facility."
The group stopped and prayed as they came to each area of ministry, including the Service Gateway reception area, the on-air studios, the programming and video production areas, the engineering rooms, and the Prayer Center. "We also took time to write Bible verses and other spiritual messages on the bare floors and walls in each area that will exist under the surfaces as an ongoing reminder to us of what will happen in the space," says Krueger.
Mark Sigue, Vice President for Ministry at Washington Adventist University, says, "This experience was so powerful. I was asked to join in to be a blessing, but I left the place the one being blessed."
Please continue with WGTS in prayer for the ministry to the Nation's Capital that will be generated in this new space.