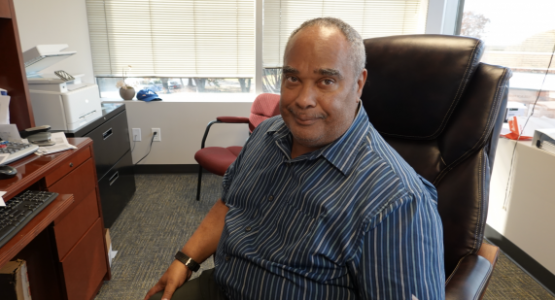 Allegheny West Conference Treasury Staff Member Retires
January 16, 2020 ∙ by rbacchus ∙ in Allegheny West Conference
Story by Benia Jennings
This month Allegheny West Conference (AWC) staff bid farewell to Kevin Mosby, assistant treasurer, who joined the conference's Treasury Department in August 1989 as an accountant. He served for 30 years, working 44 years in total for the Seventh-day Adventist Church. During Mosby's time as assistant treasurer, he was tasked with numerous responsibilities, including but not limited to, payroll, remittances and deposits. An elder and stewardship director at the Central church in Columbus, Mosby always volunteered his wealth of knowledge and skills within the church and spearheaded several building projects.
"I've worked with four treasurers during my time at AWC, each with their own unique way of doing things. Adapting was at times challenging, but I think that with each transition, I've gained valuable experience," says Mosby. "Getting to know the pastors, church treasurers and others has been the highlight of my time here. After all these years, we have become a family. I still have relationships with many former employees and I'm grateful for that."
Twila Washington, AWC undertreasurer, says, "I have enjoyed getting to know brother Mosby over the last three years. One of the things that I will miss about him is his laugh. I can't even describe it, but when you hear it, it brings a smile to your face. The second thing I will miss about him is going into his office and having him just talk about his life and share stories. The third thing I will miss about him are those quiet moments when he says nothing, but his face says so much more. Finally, the wealth of knowledge and dedication he has given to AWC. I'm so thankful for all that he has done, I hope he enjoys his retirement."
Mosby adds, "I like helping people. I often get calls from church members with questions, and I'm always happy to explain to them what it is we do here and help with whatever issues they may have. In the past, we provided training to the church treasurers, as well as meetings with them on the conference's campground. Being able to interact with and support our church members in that way was very fulfilling."
Jermaine Jackson, chief financial officer, comments, "For 30 years, Kevin Mosby has been a stabilizing force in the Allegheny West Conference Treasury Department. As assistant treasurer, Kevin has been a faithful steward of the 'storehouse.' His financial acumen, coupled with his calm demeanor, has rendered him a trusted and valuable member of the treasury team. I want to thank Kevin for the lasting impact his service will continue to have on the conference and its mission to spread the good news of our loving Savior."
Mosby continues, "My parents were very instrumental in my getting involved and remaining committed to the church. My father was head elder at the Ethnan Temple church in Pittsburg for over 20 years. In some ways, I believe that seeing that level of commitment has shaped the way I view, not only ministry work, but also dedication in other parts of my life. I sometimes chuckle when I think of when my mom would say in jest that I was the last person that she'd ever think would become an elder in the church. It makes me proud to know that because of their example, I remain faithful to God's work."
Mosby concludes, "I'm excited about my next chapter. I hope to take some time to rest initially but I'm looking forward to lots of traveling as well, I'd like to visit Hawaii, I have to save up for it but nevertheless, I plan on going. I'm also looking forward to spending more time with my grandkids. It's been a long and wonderful career and I've been blessed to serve for so many years. God has been faithful to my family and I and I know he will continue to use me for his glory no matter what the future holds."