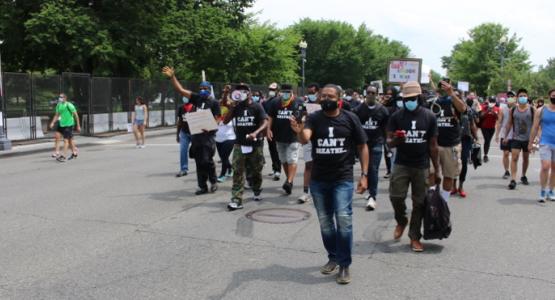 Metropolitan Church Leads Peaceful Protest
September 09, 2020 ∙ by Web Administrator ∙ in Allegheny East Conference
Story by LaTasha Hewitt
The men of the Metropolitan church in Hyattsville, Md., recently led a march in Washington, D.C., to protest the death of George Floyd, a black man killed in May by the hands of police officers. Led by Pastor Trevor Kinlock, the initial group of 25 swelled to about 1,000, as hundreds of people joined them. The march became one of the largest in D.C., and garnered the attention of various news outlets such as CBS, CNN and FOX.
The group started at the National Museum of African American History and Culture (NMAAH) in Washington, D.C., and marched to the gates of the White House, where participants knelt quietly for eight minutes and 46 seconds, the same amount of time a police officer knelt on Floyd's neck.
Metropolitan member Susan Caleb Harris recalls what the experience was like for her: "After about three minutes of kneeling, I looked around at the crowd and noticed people adjusting themselves, trying to find a comfortable way to kneel. The discomfort served as a reminder that no one deserves what these people and their loved ones endured."
In front of the White House, Kinlock read the names of more than 120 black men and women who have been killed due to police violence. After a few speeches, the group headed back to the NMAAH, where several members from the Men's Ministries group gave speeches affirming the value of black lives. In his speech, Kinlock reminded listeners that faith must not be restricted to religious spaces, and encouraged people of faith to stand up for racial justice and deconstruct racism in all areas of society. He closed with prayer for divine help and healing.