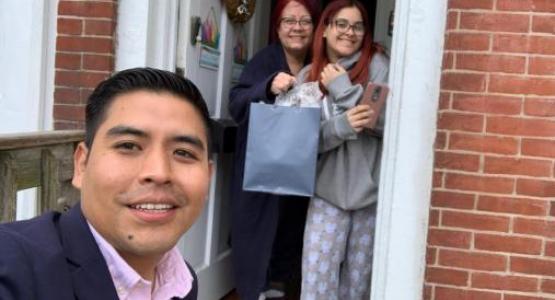 Pastors Hold Evangelistic Meetings on Facebook
April 23, 2020 ∙ by vmbernard ∙ in Pennsylvania Conference
Story by Tamyra Horst
The COVID-19 pandemic may have closed the doors to church buildings, but it has not stopped evangelism or mission in the Pennsylvania Conference.
Hispanic church leaders had planned a weeklong evangelistic series for April 4–11 (Holy Week) but, no longer able to invite people to their churches, they did not give up. Instead, they committed to being digital missionaries, using their personal social media pages to promote and invite people to attend the meetings offered live on Facebook. Hispanic pastors from across the conference united as a team behind the scenes and took turns preaching.
The series received more than 19,000 views and was shared 678 times, with an average of 191 viewers each live session. One woman faithfully watching online was from a Pentecostal church. The messages and truths moved her heart, and she decided to start returning her tithe to the Seventh-day Adventist Church as she continues to study.  
Reaching Near and Far
Pastor Saud Elias, Pennsylvania Conference's Hispanic Ministries coordinator, left his hometown in La Concepción, Junín, Peru 35 years ago, but still has family there. During the Holy Week meetings, people in La Concepción joined the live stream and watched the service. As Elias preached on Sabbath, the Holy Spirit moved on his uncle's heart, who made the decision to be baptized.
"It was a total surprise when my cousin sent the photo of my uncle watching me preach," shares Elias. "I never imagined a video could impact people that far away. I am so thankful that God used my preaching to reach my uncle."
As the weeklong meetings came to a close, pastors discussed how to follow-up and continue Bible studies in person during the pandemic and stay-at-home orders. They posted Bible instructor Braulio Jimenez's phone number during the meetings and invited those interested in a free Bible or free Bible study guides to contact him, who would then drop them off at their doorsteps. He received 26 requests for Bible studies and 13 requests for Bibles. Jimenez dropped them off at each door, making connections and encouraging people to share the Bibles and studies with a friend or neighbor.
"Reaching everyone, everywhere takes all of us united together to fulfill the mission," says Gary Gibbs, Pennsylvania Conference president. "Our Hispanic pastors showed us what that looks like lived out. They didn't let the pandemic interrupt their plans to share the gospel. They united together as a team and reached their communities—and communities in other parts of the world. This is what it will take to finish the work."