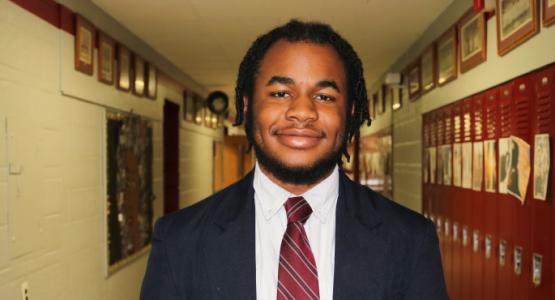 Takoma Academy Senior Selected Finalist at Carnegie Hall's Honors Series
March 11, 2020 ∙ by Web Administrator ∙ in Potomac Conference, Education
Story by Salena Featherstone
Carnegie Hall (N.Y.) is known for its history of extraordinary music and musicians. Its standard is beyond measure, including acts from around the world. Legends such as Tchaikovsky, Billie Holiday, Mahler and The Beatles have filled Carnegie Hall throughout the years, making Takoma Academy's (TA) news extra special.
This academic year, TA was ecstatic to hear that, under the direction of renowned conductor Jeffrey Redding, the 2020 High School Honors Performance Series at Carnegie Hall selected TA's very own J. Solomon Collins ('20) as a finalist. Collins auditioned in May of 2019 and was selected in late 2019. In early February 2020, he met musicians from around the world.
As a kid, Collins was not too keen on the idea of performing. His mother, Kelli Raí Collins, a singer and author, made him sing in the children's choir at church, much to his chagrin. In middle school, he went on to sing in the male chorus at the Dupont Park Adventist School in Washington, D.C.
When he arrived at TA, he was eager to perform with the chorale due to the many years of experience. This helped his comfort level and gave him confidence to sing in front of an audience. He is now one of the lead singers in TA's Camerata voice choir, under choir director Lulu Mupfumbu.
"Over the past three-and-a-half years, I have watched Solomon grow tremendously as a musician, leader and a young man of admirable talent and character," says Mupfumbu. "His ability to maintain a positive and respectful attitude and to be a true team player remains evident in everything he does."
Collins has traveled to many countries using his voice to minister. When he looks back at the years of practice and dedication, he allows that motivation to encourage him when he steps onto stage. In addition to hard work, preparation and building his musical resume, he is ready for the future and plans on majoring in Vocal Performance in his college career.
Initially, this once-in-a-lifetime, Carnegie Hall moment made Collins anxious, but later excited, as he shared his craft with fellow musicians and major vocalists.