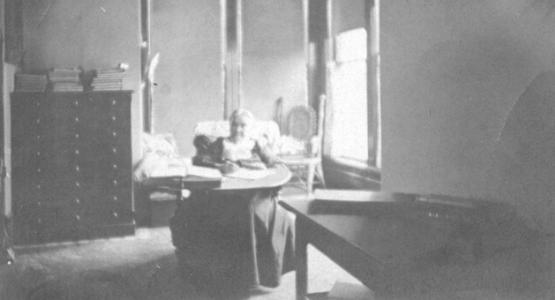 'New' Photo of Ellen G. White Is a Window into the Prophet's Life, Scholars Say
July 21, 2021 ∙ by vmbernard ∙ in
By: Marcos Paseggi, Adventist Review
A previously unknown photo of Seventh-day Adventist Church co-founder Ellen White (1827-1915) allows church members to see into her life and seems to confirm some of the comments surrounding her persona in her later years, scholars say. The photo, which shows White at work in her studio, was part of a private document collection donated to Pacific Union College (PUC) in 2017. It became more broadly known after it was added to the special collections at the institution's library, located on the school campus in Angwin, California, United States. 
The photo was taken sometime between 1901 and 1905, after White came back from Australia and settled in Elmshaven, her last residence, located in St. Helena, California. By this time, she was in her mid-70s. The photo shows White in her studio during one of her daily writing sessions. In the snapshot, White takes a break from writing to look up directly and intently at the camera. A pencil inscription on the back of the photograph reads, "Sr. White at Elmshaven."
"When we digitized the photograph using some of the best techniques available, we could feel her character come alive," Katharine Van Arsdale, special collections librarian at the PUC Nelson Library, said. "Looking at Mrs. White in this casual snapshot, you can imagine what it was like to know her and call her 'Mother.' It is deeply moving."
How the Photograph Was "Discovered"
The photograph is part of the Taylor Family Collection, donated by church member Julia Pearce, a descendant of the Taylor family, which has strong roots in the St. Helena area. The collection primarily contains correspondence between members of the Taylor family, including Charles L. Taylor, his son, George Taylor, and his wife, Lucy Taylor Whitney (she remarried after Charles died in 1918).
"Julia Pearce had commented that her family had had some connections to the White family," Van Arsdale shared. "Apparently, her family knew about the existence of the photograph as part of the collection, but we didn't. As we were reviewing the documents she donated, it was a wonderful surprise."
By the time White moved to Elmshaven in 1901, Charles Taylor was serving as the chaplain at the nearby St. Helena Sanitarium. "We believe Charles Taylor or his wife, Lucy Brown Taylor, took the photograph," Van Arsdale said, "but we don't know it for sure."
The Ellen G. White Estate Weighs In
Even after the remarkable discovery, the PUC librarians had no way of knowing the photograph was unique or was not known by other scholars of White's life and work, including those in the office of the Ellen G. White Estate at the Adventist Church headquarters in Silver Spring, Maryland. That changed earlier in 2021, when Van Arsdale published a book entitled Angwin and Howell Mountain, about the early history of the area where PUC is located. The book featured information and old images from the history of the area.