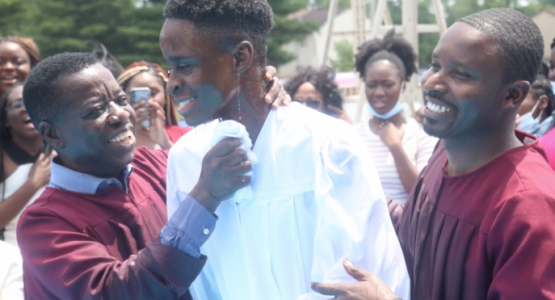 32 Decide to be Baptized at Columbus Ghanaian Revival
July 01, 2021 ∙ by vmbernard ∙ in Ohio Conference
Story by Visitor and NAD Evangelism Staff
After hosting a recent revival meeting, Ohio Conference's Columbus Ghanaian church celebrated 32 decisions for baptism. The church, however, has been laying the groundwork to welcome these new members way before the revival series took place.
Sampson Twumasi, senior pastor of Columbus Ghanaian, wanted to preserve the Ghanaian culture in his church, and, at the same time, fulfill the gospel commission to reach all people. To do this, he enlisted the help of Pastor Samuel Adjei, a student at the Seventh-day Adventist Theological Seminary (Mich.).
In October 2020, Adjei participated in the first virtual field school held by the North American Division (NAD) Evangelism Institute. There, Adjei was able put the knowledge he learned into practice, and, over the past few months, has worked with the young adults at Columbus Ghanaian to plant an English service to more effectively minister to the youth, young adults and surrounding community.
At Columbus Ghanaian's most recent effort, a revival series held nightly from June 19–26, speakers Adjei and John T. Boston, II, an associate director for the NAD Evangelism Institute, shared the gospel message throughout Columbus and on Hope TV Ghana. "It's great to broadcast around the world, but each church needs to also reach their own neighborhood," says Boston.
Other seminary students joined the effort, which doubled as a virtual field school. They helped design the digital engagement features, resulting in seven guests from Facebook outreach efforts alone. Four of the seven responded to the appeal to be baptized and join Columbus Ghanaian, becoming the catalyst for all of the other decisions made.
Many of the attendees were English-speaking neighbors of the church, says Boston. One of the baptized families were a second- and third-generation Hispanic household, but they connected with the second-generation Ghanaians. "This is the power of what's happening—cultures connected where they share commonality, not differences. Second- and third-generation young adults are growing up in a world that is diverse. Their future and current way of doing life will reflect that diversity," says Boston.
Joining one of the meetings, Bob Cundiff, president of Ohio Conference, added, "This is meaningful in so many ways. To see young adults leading young adults to Christ is right where we want to be. … Our vision for the future is to see more of this all over our conference. As of [these baptisms], we are now in unchartered territory. We are seeing more decisions for Christ and baptism now than [ever] in our history as a conference."