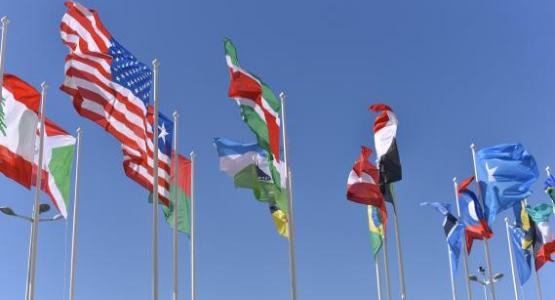 Blue Mountain Academy Students Celebrate Diversity in Chapel Series
April 14, 2021 ∙ by rbacchus ∙ in Pennsylvania Conference, Education
Story by Esther Hernandez
Angola. United Arab Emirates. Bermuda. Brazil. South Korea. Mexico. Russia. United States. Students from Pennsylvania Conference's Blue Mountain Academy (BMA) bring a rich diversity to campus as they learn different perspectives and how to excel in a multicultural, multi-ethnic environment, preparing them for the future in a diverse world.
This year, staff and students are leading out in a special chapel series that highlights different people groups and offers the opportunity to celebrate and learn from one another. "The events are designed to reveal that though we may have different cultural backgrounds, we are all one in Christ," states Esther Hernandez, director of the Marketing Department.
"Culture days are an opportunity to celebrate the uniqueness and similarities that we all share," says Burney Culpepper, principal. "Because of our cultural diversity, we are perfectly positioned for these days to be very special."
Each event includes cultural information, students sharing their experiences, activities and food. The series kicked off with a day focused on Latin America and South America, and included student speakers who shared from their own experiences and a flag parade featuring Brazil, Columbia, Puerto Rico, Venezuela, Ecuador, the Dominican Republic, Cuba and Mexico. Future chapels will highlight Europe, Asia, Africa and North America. The series will end with an international weekend celebrating all cultures.