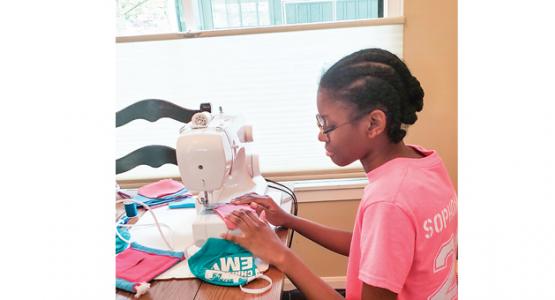 Capitol Hill Church Shifts Outreach to Meet Pandemic Needs
July 21, 2021 ∙ by vmbernard ∙ in Allegheny East Conference
Story by LaTasha Hewitt
Prior to the pandemic, the Capitol Hill church in Washington, D.C., had planned to serve their commu- nity through "Acts of Kindness" days. The activities shifted due to COVID-19, however, and their focus changed to meet the needs of first responders.
Church members visited neighborhood fire and police stations, prayed with staff and surprised them with breakfast, inspirational books and gift cards.
As part of the "Acts of Kindness" series, members also beautified the community garden at the Dupont Park Adventist School and created a sewing circle where individuals, such as Rose Stansberry (pictured), made masks to donate to seniors or others in need.
Capitol Hill also donated sandwiches to the So Others Might Eat organization, which provides food to homeless people. Members continued to partner with several nonprofit food delivery organizations like Food and Friends, which delivers food to individuals with terminal illnesses or chronic diseases. Many of the food distribution projects allowed members to be socially distant by donating funds online or assembling boxes at home.
"The success of our program is due to the dedication of our [community service] team who keeps a pulse on what our community needs and shares ways in which we can help," says Karen Hayes, Adventist Community Services director for Capitol Hill.