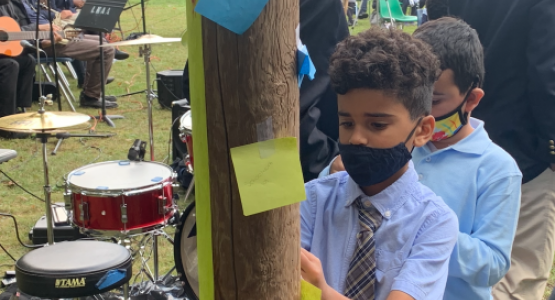 Lake Nelson Adventist Academy Celebrates Week of Prayer
January 27, 2021 ∙ by rbacchus ∙ in New Jersey Conference, Education
Story by Rod Olofernes
At the beginning of March 2020, Lake Nelson Adventist Academy (LNAA) completely changed. Yet amid clouds of doubt and uncertainty, God bestowed His blessings and shined His light of mercy, grace and love on His children, evidenced by LNAA opening its doors in the fall.
At the start of the pandemic, even meeting in person was in serious question. But recently, God allowed them to celebrate a Week of Prayer.
Themed "From Jacob to Israel," Chaplain Webster Sterling presented the Week of Prayer message, staged against a wall in LNAA's backyard. Many students viewed the services via Zoom, while in-person students had the opportunity to post prayer requests on the wall or a cross. At the end of the week, students burned their requests as a petition to God—an academy tradition for many years.
Sterling, using creative plays by the senior class to demonstrate his points, detailed the dramatic life of Jacob, how he had to run from his home to his uncle's after deceiving his father. Each morning, Sterling asked the students questions to see if they remembered anything from the previous day's sermon. They received a reward if they answered correctly.
The Week of Prayer also included music, performed live by LNAA's praise team and band. For special music, children of all ages and grades participated.
"It truly was a blessing to have Week of Prayer. God made a way to make it happen in the middle of a pandemic, through the trials and tribulations placed before us," says Elisa Maragoto, principal. "Just as Jacob was changed into Israel through hardships, God still works to make a change from within