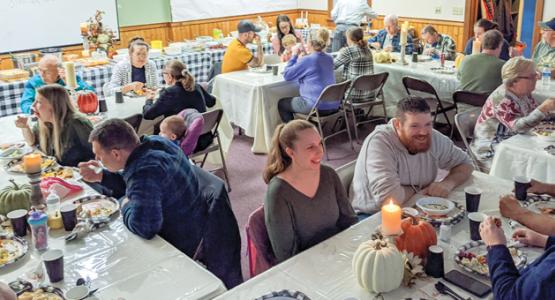 Mountaintop Meets Needs Inside, Outside of Church
July 21, 2021 ∙ by vmbernard ∙ in Mountain View Conference
Story by Valerie Morikone
"I am so grateful that the stories of the Bible are not imprisoned in dried ink printed on thinly sliced trees. Instead, it is bursting with life and full of lessons that teach us of the power of God," shares Matt Haire, pastor of the Mountaintop church in Oakland, Md., who also pastors the Kingwood and Morgantown churches in West Virginia. "It is our duty to lift the Bible up as the standard of living and to point everyone to the Savior."
Mountaintop spent the better part of 2020 (and still today) growing together as a church family through weekly potlucks, socials, community outreach and corporate Bible study. Members agree that this ministry has awakened them to the times that they are living in, and their desire is to honor the Lord by serving each other and the community.
In the prayer calendar section of Mountaintop's monthly newsletter, members' names are listed. During the week, the church's prayer team partners to pray for each individual. On Wednesday evenings, members read from a chapter in Ellen White's Conflict of the Ages series, then spend the remaining time in prayer.
Each second Sabbath, members spend the afternoon studying the history of 1888, with emphasis on the message of righteousness by faith. Every fourth Sabbath, they go door to door in their community, sharing the gospel through literature. As White puts it, "House-to-house labor, searching for souls, hunting for the lost sheep, is the most essen- tial work that can be done" (Evangelism, p. 431). Every third Sabbath, the Women's Ministries team visits missing members and those who are unable to leave their homes.
Several months ago, elder Kevin Mortenson organized a group to connect and distribute literature to area families. So far, members have visited more than 200 homes, shared more than 200 pieces of litera- ture and prayed with 68 individuals. "As a result, we now have 11 drop-off Bible studies and eight in-home Bible studies," says Haire.
Mountaintop also hosts community events, including a monthly supper club with plant-based and vegetarian dishes and recipes, along with guest speakers from the church or community who speak on nutrition, gardening and fitness.
During the Thanksgiving and Christmas season, members made food boxes for families in need. They also use the holiday season to give back to their community service workers. Last year, they distributed 50 dozen homemade cookies, along with thank-you cards, to 17 community service locations, such as the local fire stations, police, the American Legion, the volunteer fire department, rescue squad stations and the county's winter road crew department.
Haire says, "Mountaintop is taking action to meet the needs inside and outside the church, for 'when we have entire, wholehearted consecration to the service of Christ, God will recognize the fact by an outpouring of His Spirit without measure'" (Evangelism, p. 699)