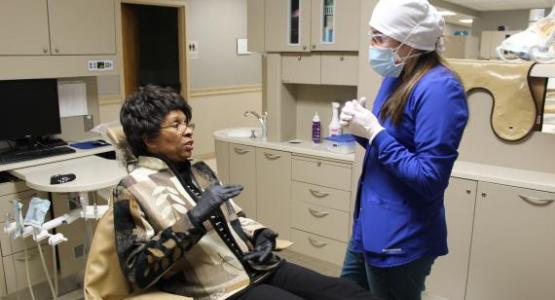 Serving the Mission Field Close to Home
September 28, 2021 ∙ by vmbernard ∙ in Coronavirus Pandemic, Kettering Health
Story by Christina Keresoma
COVID-19's impact is still being felt around the world. Changes were made to accommodate new routines, and unfortunately, sometimes the economic toll was just too heavy, causing many businesses to close their doors. One of the most tragic losses caused by the pandemic was charities who serve those in need. Reach Out Montgomery County, who served the uninsured in the Dayton area, lost funding in the wake of COVID-19 and had no other choice but close. This meant that many adults had lost an important support system and source of medical care.
The Good Neighbor House, a non-profit charity organization established by multiple Dayton area Seventh-day Adventist churches, worked to find solutions to fill this new void. They quickly partnered with the county, local universities, and a pharmaceutical dispensary in May 2020 to get resources for prescriptions, behavioral health services, and physical therapy services.
Two months later, another partnership was created with the Soin Family Residency Program, a program within Kettering Health (formerly known as Kettering Adventist HealthCare). This residency program allowed Good Neighbor House to increase the number of people they can help and double available appointments. Average visits
have grown from 24 per month to 41 per month, with some months seeing more
than 50 patients. What was once a clinic of volunteer doctors, who could come in their off- time one or two times per month, is now growing into a robust clinic providing greater continuity of care.
Clinic days have already increased from two-to-four per month to at least four per week. This has allowed Good Neighbor House to shorten the wait time from about two months to two weeks.
The Good Neighbor House is now reaching more of the community—but their current building cannot support this volume and need. Space has run out at the Good Neighbor House and a much-needed expansion is underway. Plans have been drawn for a 2,600-square-feet expansion for a medical wing and a remodel of the 4,200-square-feet dental wing that would include two additional chairs, bringing the count to six. The additional upgrades along with the expansion and remodel would also modernize the clinic.