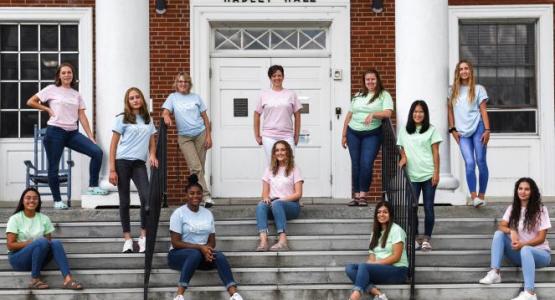 Shenandoah Valley Academy Students Thank Donors for Giving
January 27, 2021 ∙ by rbacchus ∙ in Potomac Conference, Education
Story by Shenandoah Valley Academy (SVA) Students
It means a lot for me to attend SVA because…
I love hearing about Jesus at school, and the music and sports programs. • I enjoy the academics and focus on spirituality. • In-person learning is more beneficial for me than online. • I appreciate the good education I get here. • Coming from a small school, having more friends and more opportunities is amazing. I am truly thankful. • It's such a friendly and supportive environment. Over four years, I have grown to love the unique SVA experience.• I get to have a Christian experience and enjoy the Adventist system of education. I don't know how I would be if I did not attend SVA. • Of the many people I meet and how my relationship with Christ has changed. • It gives me the opportunity to experience an atmosphere filled by the Holy Spirit. • I'm able to talk to God, to hear and learn about Him every single day. • I've made cherished memories and valuable friendships. • I've been here all four years and have really felt God's presence. • I feel so blessed to be here and make lifelong friends, including my friend, Jesus. • I'm in a school that believes the way I do, where teachers want me to be the best I can be. • This school is very close to God, and I really enjoy that. • I really love the people and the environment I'm surrounded by. • This school is making a very big impact on me. It is my first year, and I am loving it. • It is helping my relationship with God. I'm very grateful because it is something I've been needing. • I've learned a lot academically, and have grown so much closer to God. • It is such a huge blessing to me. • This is the place where God changed me. It is where I have to be, and it is my decision to come back every single year. • Attending SVA has always been a dream of mine. My favorite part is the yearly mission trip because I love helping people in need. • I've developed a love for this school because I see what it is doing in my life. The atmosphere, people, vespers, church services, afterglows, everything that we do here, it really changed me. Now I am more of a God-fearing man whose goal is to center his life around Jesus.
Thank you…
For giving to make all of this possible for me and for many others. • May God bless you for blessing others! • Please keep doing what you're doing because I hope others can have the same experience. • Thanks to you, my dreams have become a reality. Thank you so much!