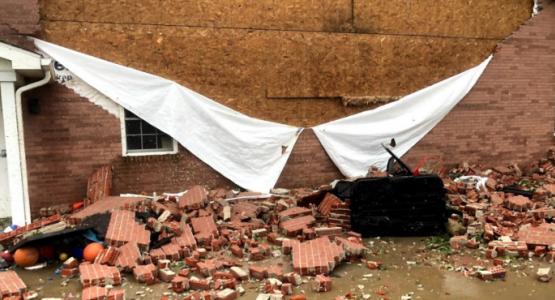 Dover First Christian School Enrollment at Dover First Spins Up After Tornado
February 08, 2022 ∙ by Web Administrator ∙ in Chesapeake Conference
Story by Evan Knott
It was the summer of 2020. The pandemic was raging in full force. Chelsea Calhoun, principal and head teacher of Chesapeake Conference's Dover First Christian School (DFCS) in Delaware, worked with the school board to develop safety protocols for a planned return to in-person learning in the fall. The two-teacher school was facing a significant problem: They only had 11 students enrolled for the upcoming school year—far short of what they needed. And then a tornado hit the school.
The tornado, generated by Hurricane Isaias, tore down an exterior brick wall of the school. Fortunately, it left the rest of the building intact. Despite the damage, DFCS returned quickly to in-person learning—but still with only 11 students.
The school board prayed that God would bring more students to the school, and their prayers were soon answered.
"We definitely saw God show up in a big way," says Calhoun. "By the [end of the] first month, we had doubled our enrollment."
After finishing last year with 22 students, the school board decided to remove an interior wall to create a more spacious classroom to accommodate the growing student body. This year, they have a record 35 students.