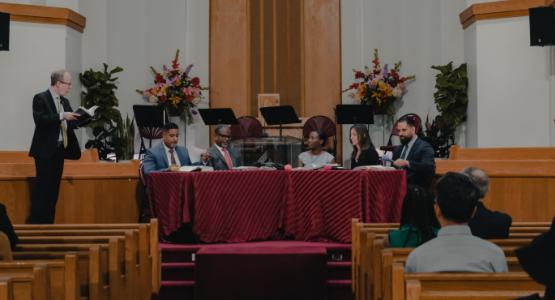 First Church of Teaneck Hosts Hope Channel
November 08, 2022 ∙ by Web Administrator ∙ in Allegheny East Conference
Story by LaTasha Hewitt
The First Church of Teaneck in New Jersey recently hosted Hope Channel International's "Sabbath Impact Day." Led by Hope Sabbath School member Jason Miller, the hybrid event began with a Sabbath School discussion with panelists Sabrina Mills and Victor Mills from Middleton, N.Y., and First Church members Asabie Hoyte, Jonathan Mays and Elvys Mutis.
Robert T. Smith, pastor of First Church, then called the church to worship through a short scripture verse and prayer. Derek Morris, director of Hope Channel, presented a message titled, "It's Harvest Time (Luke 10:2)." Using the example of the martyrdom of Stephen in the Bible, Morris reminded congregants that the harvest is great, whether there be one or many in the reaping.
In the afternoon, Hope Channel staff highlighted various programs they produce, presented on how they are ministering worldwide and shared how they are using the channel to prepare people for the second coming of Jesus. Many congregants answered the call to become harvest workers.
"We were honored to be the first church selected to host one of their Impact Sabbaths," says Smith. "It was truly empowering to be a part of a cross-generational worship experience."
To watch the service, visit First Church of Teaneck's YouTube channel.