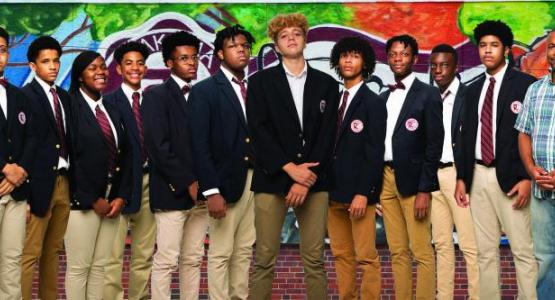 Takoma Academy Grows Engineering Program
February 09, 2022 ∙ by vmbernard ∙ in Potomac Conference, Education
Story by Shaun Robinson
Thirteen ambitious students enrolled in this year's engineering class at Takoma Academy (TA). Two of the course instructors are local engineers who have worked for NASA and Verizon. A third instructor who has done similar training with the U.S. military joins the team online each morning.
This year, Andrews University (Mich.) partnered with TA, certifying the Introduction to Engineering course as the first ever dual-credit course taught by TA instructors on TA's campus. Additionally, students are receiving training that will prepare them to secure the industry-respected SOLIDWORKS Certification.
To meet the robust requirements for SOLIDWORKS software, TA purchased 13 new, high-powered computers. Upon completion of the class, students will be well-prepared for their engineering courses when they matriculate to college.
"Having children of color who are also children of faith so interested and invested in this opportunity is awesome to see!" says instructor Mike Dixon. "Many of our parents have invested in the software
we're using so our students can practice outside of the classroom. This level of commitment, combined with this kind of opportunity, results in the brightest of futures!"
Sophomore Samantha McKenzie, who aspires to be an architectural engineer, says, "I feel like I will definitely have an advantage with my knowledge of software like SOLIDWORKS. This course really teaches us how to think outside of the box when it comes to computer-aided design."
Senior Gabriel Morency, who one day wants to be a mechatronics or mechanical engineer, explains, "The career path that I would like to pursue in engineering would be more of an inventive path. Instead of improving existing principles or working on common items, I want to invent and create new things to innovate and push society forward in technology and science." Morency is planning to attend Massachusetts Institute of Technology in the fall.