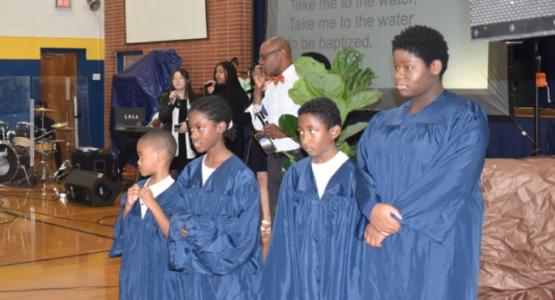 The Academy Church—A Place for All
January 10, 2023 ∙ by Web Administrator ∙ in New Jersey Conference, Education
Story by Ashley Boggess
The Academy church's main objective is to lead others to Jesus and create an environment for discipleship and transformation. Using Christ's model of creating personal connections, Webster Sterling, LNAA's chaplain, seeks to create opportunities for the youth to build godly relationships, leading to personal transformations. It is a welcoming space for young people to grow and use their talents to serve God and the community.
The Academy church was recently dedicated. Attendees included Jorge Aguero, New Jersey Conference's (NJC) president; Mario Thorpe, former executive secretary; Carlos Portanova, treasurer; and Carlos J. Torres, Personal and Family Ministries director. The celebration included the baptism of two LNAA students, siblings Sabrina and Lucas Maragoto, with a special blessing from their grandfather, Leonel Garcia, a retired pastor.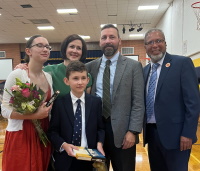 Sabrina explains the experience of getting baptized and joining the new Academy church: "I felt very welcomed by the new church family. It was such a blessing to be a part of this new church plant. I'm so thankful for my church and school family."
The Academy church later had another reason to celebrate. At the conclusion of Week of Prayer, led by Sterling and the Class of 2023, LNAA rejoiced over four young people who gave their lives to Jesus by deciding to be baptized.
Sterling says, "We believe at Lake Nelson that education and redemption are one. Every day within the classroom, our teachers are ministering to our students and helping them to grow spiritually. The Week of Prayer was a climax of those classroom experiences. We praise God for the opportunity to [bring about] this church plant to continue to allow God to expand our territory and ministry within our families and the community."