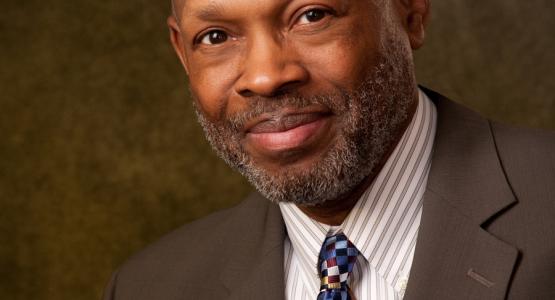 Allegheny East Member's Ministry Aimed at "Breaking Chains"
February 13, 2014 ∙ by Anonymous ∙ in Allegheny East Conference, Perspectives
James Dotson, PhD, is a founder of the Training for Transformation ministry.
After holding his first conference " Breaking the Chains: God's Design for Sexuality," James Dotson, who holds a PhD in health education, and is a member of Allegheny East Conference's Dupont Park church in Washington, D.C., recently talked to us about his Training for Transformation ministry. 
Q: When did this ministry start?
A: It started informally in 2006 when I did a sermon about God's design for sexuality at a local [Seventh-day] Adventist church. But the ministry was officially launched in January 2007.
Q: What is the goal of your ministry and why?
A: The ministry is about transformation through the power of the Holy Spirit, particularly in the area of sexuality. I realized there was a need for something like this because I spent decades living a sexually immoral lifestyle. I was in my mid-40s before God finally got a hold of me and delivered me from that pattern. I finally realized that what the Bible says is true—what defiles a person is what comes out of his heart and mind. This ministry is not just about telling people not to have sex—I got that from my parents and church. But we are focused on reminding people of God's vision for us, which goes well beyond … sex. We talk about what it means to be a man and a woman and what God says about how we should treat our bodies. (There is a lot of scriptural guidance in Galatians 5, Romans 8, Philippians 12 and 13 and John 15.) We also talk about how we can experience the gift of sexuality as God intended it and avoid the counterfeit that Satan readily lays out there before us.
Q: Why is this ministry so important to you?
A: I was a victim of abuse and after years of walking around with that crap, I got help and felt God call me to help people in the same way that I was helped. If you look at the statistics—one in four girls and one in six boys will be victims of abuse before they turn 18, sex trafficking is increasing around the world and intimate partner violence is increasing by staggering numbers, you'll see that as followers of Christ—we have a responsibility to heal the brokenhearted and set the captives free.
Q: What do you say to those who think the church is doing an adequate job addressing the issue of sex and sexuality?
A: I believe that when it comes to our churches, it is the elephant in the room. We as followers of Christ are not as active in promoting God's design for sexuality. We tell people it's not appropriate to discuss this during the 11 o'clock service while Satan is moving forward and taking more and more ground. This is not something to be discussed every once in a while at special seminars but needs to be regularly taught in our churches.
Q: Any final thoughts or tips on breaking the chains of sexual sin?
A: One of the most important lessons I've learned is that I have no power to be a man of sexual integrity and purity. A passage from Ephesians really spoke to me because I truly understood for the first time what it means when Paul said, "We wrestle not against flesh and blood but principalities." There is a great controversy between a God who wants us to experience abundant life and Satan who wants to destroy us. He custom designs his attacks based on what he knows about us and if we don't learn how to connect with the Holy Spirit, allow him to come into our lives and take over and allow him to do our fighting—do our contending with Satan—we are going to be failures, victims bound by all manner of sins.
To learn more about Dotson's ministry, visit trainingfortransformation.com.