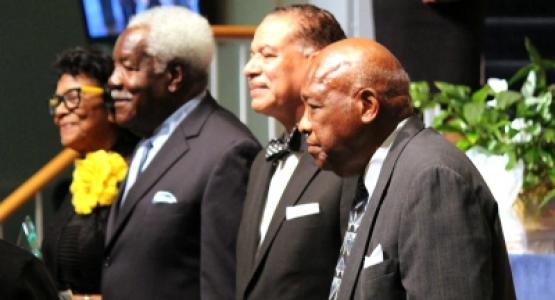 Allegheny East Women Honor D.C. Area Men
December 05, 2013 ∙ by Anonymous ∙ in Allegheny East Conference
These honorees (and one honoree's widow) are among the 113 being recognized for their service to their church and community.
Story by Debra C. Anderson
It was a Sabbath fall afternoon and Allegheny East Conference's Dupont Park church in Washington, D.C., was filled to capacity. The audience had gathered for the Men of Honor program, an annual event that the conference's Washington Metro Area Women's Ministries (WMAWM) sponsors to recognize some 113 men who faithfully serve their churches and community.
Men of Honor from the Class of 2013 were recognized in three areas. In the category of Helping Hands, 44 men were nominated for their selfless acts of kindness, 27 were acknowledged for their commitment to Community Service and another 42 received nominations in the Unsung Hero category for their significant service to mankind that has not been publicly known or recognized. Each of the recipients was presented with the Men of Honor pin. This year's group of honorees joins the nearly 300-strong fraternity of men who have received this honor.
Of the 113 honorees, 42 were selected to receive the Men of Honor Award. The award is given to one honoree from each church in each category. This year, several men from the Dupont Park church shared the Spirit of Community Award and from the Metropolitan Church in Hyattsville, Md., the Unsung Hero Award.
For the first time in the four-year history of the program, six were nominated who had no affiliation with any of the 11 sponsoring churches. Instead, it was the exceptional leadership they displayed in their communities that elicited their nominations. They included, Glenn Batchler from Columbia, Md.; Osman Barrie from Silver Spring, Md.; Captain James Fenner Jr., from Germantown, Md.; Lionel J. Harrell from Bowie, Md.; Nelson Toney from Washington, D.C.; and Khazal Al- Shimmary from Lanham, Md. Their stories left an indelible impression on those who nominated them. These stories range in scope from providing free automotive service to serving as a mentor to young police officers.
Denise Crarey, WMAWM leader, said, "Honoring our men should be a foregone conclusion. When they, through their various acts of kindness, reveal their true unselfish nature it then becomes incumbent upon us through this noble gesture to recognize and honor the work they do."
Warren S. Banfield received the prestigious Chosen Vessels Award. The honor recognizes the outstanding service and support of an individual or group to the mission and vision of Women's Ministries globally and to the constituents of the Washington metropolitan area specifically. The award, given to Banfield posthumously, was presented to his widow Gerri Banfield. In 1990, as a result of his tenure as director of the General Conference's Office of Human Relations, and as a direct result of his vision, the General Conference elected the first Women's Ministries director. Within months the North American Division followed suit. Two years later, in 1992, the Washington Metro Area Women's Ministries became the first in the Allegheny East Conference to establish a chapter for Women's Ministries.
Posthumous awards were also given to the family of Emmanuel Jackson, IV, for his generous spirit in feeding the less fortunate and to the family of Jesse Reeves for his many years of dedicated service to the Fourth Street Friendship church community in Washington, D.C.